British Championships: Gold 'such a good feeling' - Dan Jervis
Last updated on .From the section Wales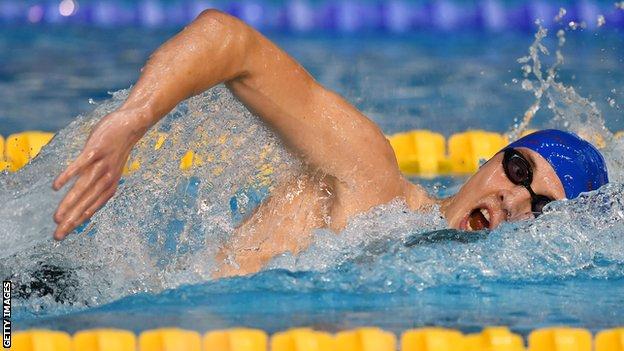 Wales' Dan Jervis has described his gold medal at the British Swimming Championships as "amazing."
Jervis, 20, won the 1500m freestyle in a time that puts him in consideration for the Great Britain team for July's World Championships.
"I've never won a medal at the British trials before. It's such a good feeling, I'm loving it," Jervis told BBC Sport.
"I'd love to represent Great Britain and it would be amazing."
Jervis added: "I went to the European Championships last summer but to be on the actual team to go to the Worlds will be a dream come true."
Jervis has previously been a European junior champion and won bronze at the 2014 Commonwealth Games.
The Swansea swimmer achieved a consideration time on the way to an emphatic victory in the 1500m freestyle, finishing in 14 minutes 51.48secs.
"It was really hurting that last length but me and my coach went really hard in training to overcome the mental stress in that race more than the physical," Jervis added.
"In that race I knew exactly what I needed to do and the last 100m finishes itself really.
Jervis combines swimming with his everyday work as a painter and decorator and he is happy to continue with that arrangement.
"My dad's my boss so he's pretty flexible with everything," Jervis added.
"We've got a routine worked out and it's working so I'm going to carry on.
"I love doing it and love going back to a normal life because swimming's not a normal life."