Netball: Wales 39-72 New Zealand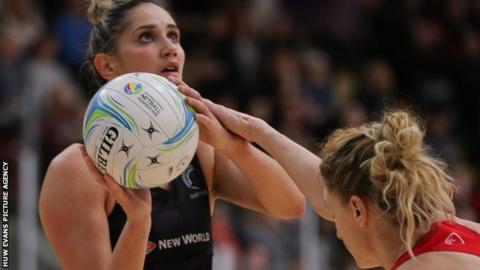 Wales produced an improved display but still suffered another heavy defeat by New Zealand in the second of two Tests in Cardiff.
New Zealand thrashed Wales 92-27 in Tuesday's first Test but led 15-12 after a tight first quarter.
The Silver Ferns extended their advantage to 31-21 at half-time.
The visitors pulled further ahead as they finished the third quarter 51-30 up and, despite a valiant Welsh effort, New Zealand were comfortable winners.
The Silver Ferns' Grace Rasmussen was named player of the series.
Wales captain Suzy Drane told BBC Wales: "It was a good margin to come back to from yesterday's game.
"We will be pleased but we won't be settling for that scoreline.
"We have 14 months until the Commonwealth Games and we will look forward to that.
"Our team have had one weekend together and we then come up against the second best team in the world.
"Who knows what we can do with 14 months together? It's about the journey and sticking together."
Wales squad: Sara Bell, Fern Davies, Suzy Drane (capt), Bethan Dyke, Chloe James, Kyra Jones, Nia Jones, Lateisha Kidner, Chelsea Lewis, Kelly Morgan (vice-capt), Georgia Rowe, Amanda Varey.