Paris Grand Slam: Natalie Powell returns to Great Britain squad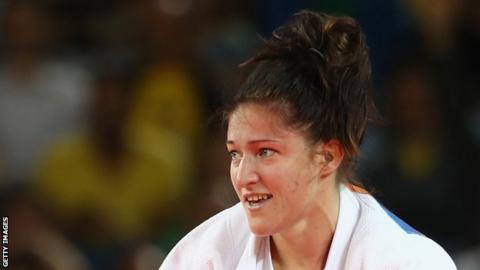 Commonwealth medallist Natalie Powell is one of three members of Britain's Olympic judo team who will return to international action next month.
The Welsh judoka is joined by Alice Schlesinger and Ashley McKenzie in an eight-strong British squad for the Paris Grand Slam on 11-12 February.
Powell, 26, won bronze in the -78kg category in Paris last year.
She went out of the Olympics in the quarter-finals and finished the season by winning the British Championships.
'To date only five British judoka have won the Paris Grand Slam.
Karen Briggs and Sharon Rendle won in 1992; Nigel Donohue in 1993; Kate Howey in 1997 and Craig Fallon in 2003'
Trio to make Paris debuts
Lucy Renshall, Jemima Yeats-Brown and Max Stewart will be making their first appearances at the prestigious Paris event.
However, Olympic bronze medallist Sally Conway will sit out the event as she has only recently returned to full training.
Donohue, now performance director at British Judo, said: "It will be great to see three of our Rio Olympians in action again.
"I'm also looking forward to seeing how some of our younger judoka perform, including Max Stewart, who returned from a serious knee injury to finish 2016 inside the world's top 25 at -90kg."
British squad: -52kg Kelly Edwards, -63kg Alice Schlesinger and Lucy Renshall, -70kg Jemima Yeats-Brown, -78kg Natalie Powell, -60kg Ashley McKenzie, -90kg Max Stewart, -100kg Philip Awiti-Alcaraz.