Manon Carpenter: Welsh cyclist anticipating 'a good year'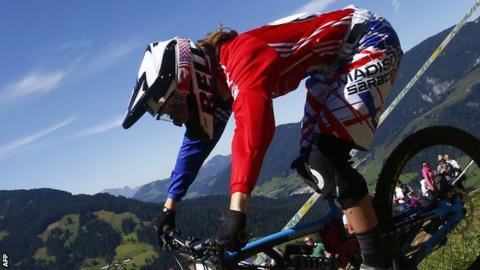 Manon Carpenter is raring to go after joining a new cycling team for 2017.
The 2014 world downhill mountain bike champion has signed a two-year contract with Radon after six years with left Madison Saracen.
The 23-year-old Welsh rider resumed training before Christmas after breaking a collarbone in September.
"I went over to visit the new team in Germany at the end of last year and it feels like it's going to be a good year," Carpenter told BBC Radio Wales.
"I'd been with Madison Saracen quite a long time really I think with a race team people tend to move around a little bit and I guess I just fancied a change really.
"It was really good being part of Madison Saracen, they kind of brought me up from a junior into the elite ranks ranks and made it possible for me to get where I am today.
"It's kind of cool being part of an international team - I quite liked the idea of that - and I get to do a few more international races."
The 2017 Downhill World Cup starts in Lourdes, France on April 29-30.