Wales select 10 for World Bowls Championships in New Zealand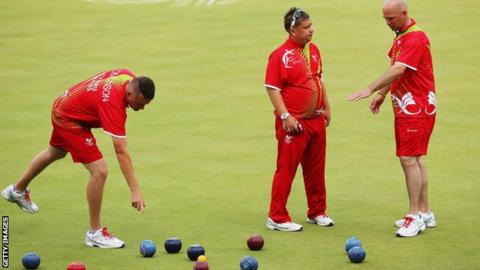 Wales have selected a 10_person squad to take part in the World Bowls Championships in New Zealand.
Players from 34 nations will compete in Christchurch from 29 November until 11 December.
The Welsh squad has players qualified to compete across all disciplines, singles, pairs, triples and fours.
Commonwealth Games medallists Robert Weale, Anwen Butten, Marc Wyatt and Jonathan Tomlinson are among those who will make the trip.
"This is another positive step for bowls in Wales," said women's senior team manager, Hazel Wilson.
"We'll be competing against the best in the world and it's a huge challenge for our bowlers, but one we've been working hard to prepare for.
"We've got a good blend in our squads so we're all looking forward to getting started now."
Wales squad: Emma Woodcock, Kathy Pearce, Jess Sims, Laura Thomas, Anwen Butten, Steve Harris, Marc Wyatt, Ross Owen, Jonathon Tomlinson, Robert Weale.