Manon Carpenter to leave Madison Saracen and join new team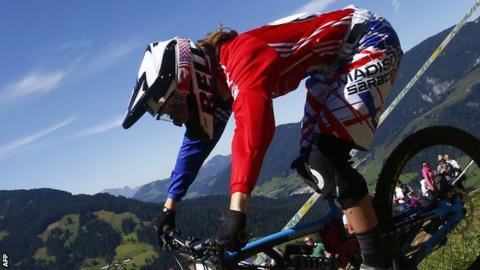 Welsh downhill mountain bike rider Manon Carpenter hopes joining a new team will help her win major titles again.
Carpenter, 23, will leave Madison Saracen after six years to join a new team ahead of the 2017 season.
"I've got a good feeling about the new team," the 2014 world champion told BBC Wales Sport.
"Once you've won the aim is always to win again. That's my goal for next year - to win some races."
Wales-based Rachel Atherton, 26, won last season's World Championship as well as all seven World Cup races to complete the first ever 'perfect season' in downhill history.
Carpenter is hoping a change of scene will help her close the gap on Atherton.
"I've had second overall two years in a row now so I just want to get back to winning a World Cup," Carpenter added.
"There's always things to work on over the winter which I'm really looking forward to. I should be good for next year."
Carpenter, who is set to join a European-based team, admits it was a tough decision to leave Madison Saracen, who gave her a first opportunity in elite racing.
"It's quite a big decision because that's the race only team I've ever been on," she said.
"I signed with Madison Saracen when I was a junior and I've been with them for five years as an elite rider.
"It's an unknown going to a different team because you don't know what the differences will be like but I'm now looking forward to seeing what it will be like on a different team."
Carpenter will combine racing in 2017 with studying for a degree in geology at Cardiff University.
"I'm going to be working with a coach I was with a few years ago and I always enjoyed working with him and really trusted him so I'm looking forward to that," she said.
"It'll be really good to race with a new group of guys. Staying at home over the winter and really focusing on my training should be really good for my racing."
Carpenter will resume full training in the next few weeks after her season came to an end with a crash at the World Championships in Val di Sole which resulted in a broken collarbone.
"The collarbone is pretty much fine now and I took the opportunity to get some metalwork out of my arm and had laser eye surgery on my eyes," she said.
"So I took the opportunity off the bike to have a few things done to be all new for next year."