Dai Greene can bounce back despite funding loss, says Jamie Baulch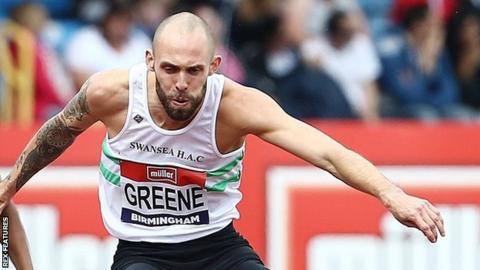 Jamie Baulch does not think former world 400m hurdles champion Dai Greene's career is over despite the loss of National Lottery funding.
British Athletics has announced Greene, 30, has been omitted from its world-class performance programmes for 2017.
Greene was world champion in 2011 but has been plagued by injuries.
"I would never write anyone off especially someone like Dai because of the character he is," ex-Olympian Baulch said.
"The one thing with 400m hurdling is that you can go on for quite a while.
"Felix Sanchez (two-time Olympic gold medallist) for example, everyone thought he was down and out and it wasn't going to happen with him and a couple of years later he ends up winning major medals again.
"You'd be very surprised what can happen when you think it's over and you get another bite of the cherry."
Greene, a former European and Commonwealth champion, missed the 2015 World Championships after a year wrecked by injury but had kept his top funding for 2016.
He did not feature at this year's Olympic Games in Rio and former world champion Baulch said the loss of funding was "more bad news" for Greene.
"He's just got to somehow overcome injuries and try and get himself back on track and winning medals again," added Baulch, who previously acted as Greene's agent.
"When you get stripped of a lot of things in life it's through adversity that you can actually come back.
"I've seen it time and time again when lottery funding gets stripped from an athlete and a year later they come out and run better than ever. Talent doesn't go anywhere."