Brett Johns: Ultimate Fighting Championship signs second Welsh fighter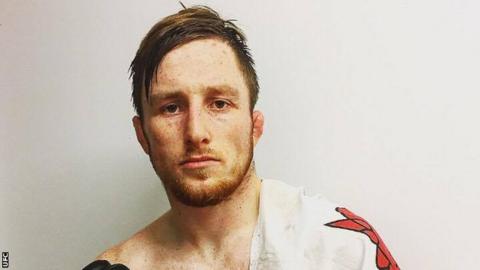 Welsh fighter Brett Johns says the hard work is now beginning ahead of his debut fight in the Ultimate Fighting Championship (UFC).
The 24-year-old became the second Welsh fighter to be signed by the UFC after Jack Marshman joined up in October.
Johns and Marshman will both make their debuts on the undercard at UFC Fight Night 99 in Belfast on 19 November.
"It's a dream come true and to say that is an understatement," Johns told BBC Radio Wales.
"When I first started in this sport about seven or eight years ago, that was the dream. Even as an amateur coming through the ranks, I never took my eyes off the prize."
Johns, who fights out of Swansea, will make his UFC debut against South Korean fighter Kwan Ho Kwak while Marshman will face Sweden's Magnus Cedenblad at the SSE Arena.
"Now, being in the UFC, it doesn't mean the work stops. If anything it means the hard work now begins," Johns continued.
"We've got Jack Marshman there as well so there's two Welsh boys and it's not a win for me or for my team, it's a win for Wales."
Johns believes his experience in mixed martial arts will serve him well ahead of his debut bow in Northern Ireland this month.
"I've fought on smaller promotions before now, such as Celtic Warriors, and I was a champion there. I fought on Pain Pit, an organisation in Wales, I was a champion there," he added.
"I fought in Cage Warriors which was the biggest promotion in Europe and I won a world title there. I went out to the States to fight for a company called Titan Fighting Championship and I won a world title there.
"Wherever I go I win belts and it's the same story here. It'll be me going out trying to win a world title UFC belt and I will get there in the end."