Chaz Davies: World Superbike rider eyes MotoGP return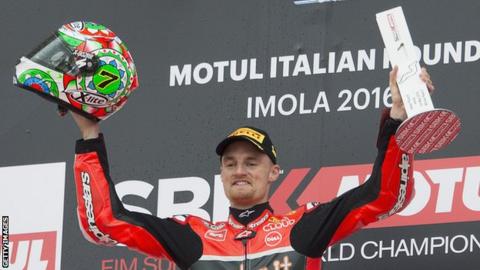 Welsh rider Chaz Davies says his "ultimate ambition" would be to secure a ride in MotoGP again in the future.
Ducati's Davies won seven of the last eight World Superbike races of the season but finished third in the riders' championship.
The 29-year-old from Powys competed in three replacement rides for Ducati in MotoGP in 2007.
"I'm a more complete rider now I've developed a lot myself in the last year," Davies said.
"I think now is a good time for me to try and go to Moto GP but it has to be the right situation.
"There's no point in going there just to be part of the championship.
"I'd be going there to get the best chance of testing myself and proving that I'm one of the top bike riders in the world.
Davies finished third behind British rivals Jonathan Rea and Tom Sykes, both of Kowasaki, in this year's World Superbike riders' championship after winning 11 races.
"It will take another very good year in Superbikes and then we'll look at it again for perhaps 2018.
"I've got a two-year contract with Ducati now which carries me to the end of 2018 but they've obviously got a very strong tie in with the factory team in Moto GP.
"I've been there best rider for three years and I think this year I proved myself to be somebody they should look at for the future in Moto GP.
Although a return to MotoGp is the ultimate aim, Davies is already looking forward to the 2017 World Superbike season.
"I was consistently the fastest guy out there in the last part of the year so obviously I've got a bit of a target on my back," Davies told BBC Wales Sport.
"The champion in my eyes has got a bigger target on his back from me so I'm very much geared up for next year.
"I think Ducati are going to bring some updates to the table which should help us and I'm very much looking forward to it."