Bale is a Real Madrid great says ex-president Calderon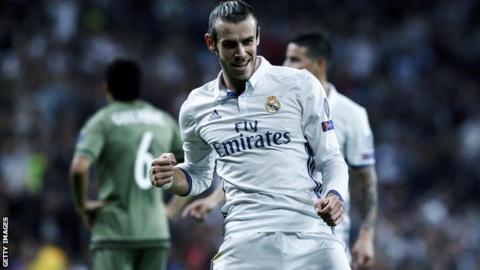 Former Real Madrid president Ramon Calderon believes Gareth Bale is on his way to becoming "one of the greats" to play for Los Blanco.
The Wales forward has extended his contract with the Spanish giants until 2022.
"Everyone loves him here. He has done a fantastic job, is playing well and is scoring goals. Everyone is very happy," Calderon told BBC Radio Wales Sport.
"I think Bale is going to be remembered as one of the great ones. No doubt."
He continued: "I hope he will go down as one of the greats. We have had many. Zinedine Zidane, Luis Figo, Ronaldo and Alfredo Di Stefano.
"He is of course our greatest British player. When I was in the presidency we had [David] Beckham, he was the best one when I was there, he did everything right as a member of the club.
"But Bale is already one of the greatest and I think one of the players everyone in the world wants to have."
The 27-year-old arrived at the Bernabeu from Premier League side Tottenham Hotspur on a six-year deal in 2013 for a then world record fee of £85m.
He has helped Real win five trophies in the past three seasons, including the Champions League twice, and scored 62 goals in 135 appearances.
Calderon, who was president of Madrid between 2006 and 2009 and now serves as a club ambassador, feels Bale has done especially well considering the pressure associated with signing as the world's most expensive player.
Bale's £85m move stood as the world transfer record until Manchester United paid 105m euros for Paul Pogba in August.
"It was difficult, when he came here because we paid for him more than we paid for Cristiano [Ronaldo]," Calderon said.
"And that was a handicap, as everyone thought it would be very difficult to be better than Cristiano.
"So I think it is fair, the extension of the contract. Because he is a great asset for the club.
"It was a big challenge when he signed as at the time he was the most expensive player ever, but he has done fantastically."