Joe Allen: How Mark Hughes has helped midfielder hit goal trail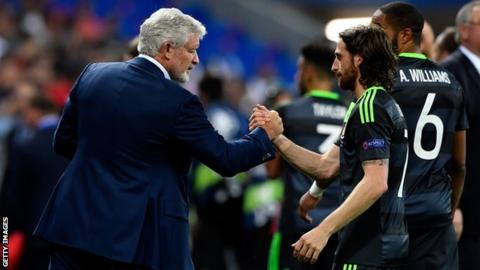 Welshman Joe Allen says he has been taking goal scoring tips from manager Mark Hughes as he prepares to face his former club Swansea City.
Allen has scored four goals in nine Premier League appearances since joining Stoke, equalling the tally he managed in 91 games for Liverpool.
Potters boss Hughes, Wales' joint-seventh highest scorer with 16, also hit more than 150 top-flight goals.
"He's been a special help to me scoring," Allen told BBC Radio Cymru.
"He's been telling me what he wants me to do in that type of situation.
"He's given me more responsibility to push forward, to find myself in the box and try to create goals as well as scoring some too.
"Being called a goal machine is something that's quite weird for me. It's not something I've been called before. At the moment, it's a nice feeling.
"The position I am playing helps. I'm playing in the number 10 role and because of that I find myself in situations where the ball drops in the box.
"I'm very confident in front of goal. If you speak to pretty much any footballer they'll talk about the fact that after scoring one or two goals things come that little bit easier.
"I'm hoping to keep this good run going and we'll see if I can score more goals."
Klopp disappointment
Allen admits he is still disappointed by the fact Liverpool boss Jurgen Klopp did not give him a chance to shine at Anfield, but he has no regrets over his departure.
Allen was named in the team of Euro 2016 after helping Wales to the semi-final, but Klopp allowed the 26-year old to depart after four years at Anfield.
"To be totally honest before going to the Euros I'd decided if I had the chance I would move on," he said.
"After the Euros there was no feeling of disappointment it's what I hoped to do.
"I think the biggest disappointment was maybe when he came in for the first time as a manager he was quite clear that I wasn't part of his plans so last season sometimes it was very difficult for me."
'Weird feelings' against Swansea
Allen was linked with a return to the Liberty Stadium throughout the summer, with ex-Wales striker Dean Saunders describing the failure to bring him back as 'a disaster.'
Allen admits facing his former team is always strange for him and his nearest and dearest.
"It's always a game that I look out for at the start of the season so it's weird, it's weird for me, as well as for my family and friends," he said.
"A lot of people don't know who to support when I play in these types of games.
"But, at the same time, once the game starts everything is forgotten and now I've got a job to do for Stoke."