Phillip Price: Welshman delighted to turn 50 and join Senior Tour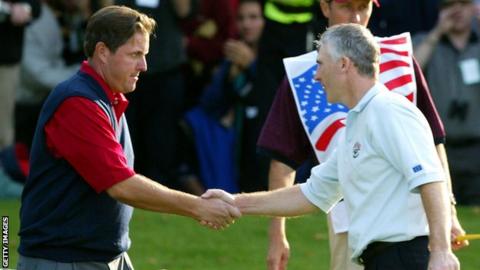 Former Ryder Cup hero Phillip Price has just one ambition left 27 years after turning professional. He wants to be competitive again.
A three-time winner on the European Tour and one of the most surprising Ryder Cup success stories in recent memory, Price has enjoyed a fine career and could, if he wished, put his clubs away for good.
However, the Welshman has other ideas and is relishing the prospect of playing to win on the European Senior Tour.
He has already made a good start to that end, finishing second in his maiden event in Italy behind compatriot and long-time friend Stephen Dodd, earning him €35,000. Not bad for your first week in your new job.
Price is ready to compete again and says he has been counting down the days to his 50th birthday.
Major hopes
A circle on the calendar will already be made for July when Price's first major championship appearance in 10 years takes place 30 minutes from his hometown of Pontypridd at Royal Porthcawl.
Price is a golfer rejuvenated and is expecting success to follow.
"I feel like it is a completely new lease of life for me," he told BBC Radio Wales Sport.
"If I am honest it is about two-years now where I have barely played, I have been on regional or Pro-Am events. In a sense it has been nice, because I have got to spend a lot more time with my family, but in terms of competing again, I just can't wait.
"It has been a long, long time, since I have been competitive. I am looking forward to playing against players of my own age and my own standard.
"For a few years on the European Tour my game did not match up to some of the younger guys.
"Time moves on and I am excited to be playing against guys my own age.
"It is what I have always done, played golf and this is like a new career. I love competing and I feel like I did when I started."
A big hitter again
Price is equally excited to be considered long off the tee once more, something that has not factored into his game since the 1990s.
"I played a few over 48-events in preparation for my seniors debut and I feel like a big hitter now! That is quite an odd experience, because at the end of my European Tour career I was one of the shortest hitters," he explained.
"The tees go forward on the Senior Tour, so the courses will fit the game I have. As the years have gone on, the European Tour has become much longer."
Ryder Cup memories
Price is only too aware that whatever he achieves on the Senior Tour, the chances are he will always be remembered for the 2002 Ryder Cup and his dramatic singles win over Phil Mickelson, who at the time was ranked number two in the world.
"It was great, we went into the singles 8-8 and America were strong favourites, even at the Belfry," Price recalls.
"The crowd were buzzing and had a great day with Monty [Colin Montgomerie] leading us off and everyone playing well. Finally winning the match was amazing; I have nothing but great memories, amazing memories from that.
"Winning the Ryder Cup was amazing and winning a nice point myself capped it off for me.
"Leading into the Ryder Cup was a difficult year for me. My form had dipped at the end of the qualification process and I thought having an extra year [the event was postponed due to the 9/11 terrorist attacks] would help me, give me a chance to rediscover my best form, but unfortunately it didn't.
"In the weeks before the Ryder Cup I was struggling and worrying that I was going to let myself down, or let the team down. The world is watching at the Ryder Cup.
"But it didn't turn out like that."
We've launched a new BBC Sport newsletter, bringing all the best stories, features and video right to your inbox. You can sign up here.