Suzy Drane: Celtic Dragons can build on Superleague performance next season
Last updated on .From the section Wales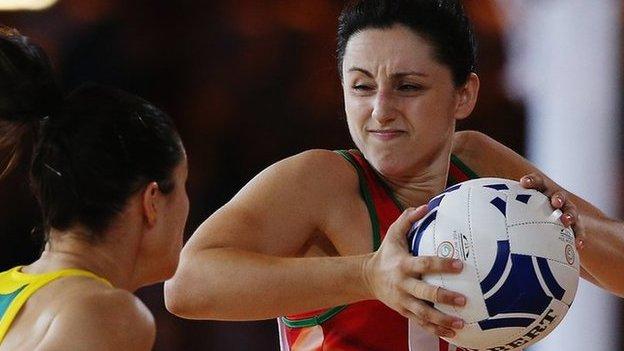 Celtic Dragons and Wales netball captain Suzy Drane says the Superleague side can build on their performances from last season.
The Dragons finished in seventh place in the Superleague but are aiming to finish higher in 2017.
"We were disappointed seeing ourselves seventh, knowing we had played highly competitively," Drane told BBC Wales.
"We have definitely improved but now we need to make sure we learn and apply that for even longer."
The 2017 season starts in February and the Dragons have already signed two international players; Kalifa McCollins from Trinidad and Tobago and Stacey Peeters from New Zealand.
"We are looking at making sure we make gains again next season. Trish [Wilcox - Celtic Dragons' head coach] is player centric and she's looking to develop future players and netball in Wales," Drane continued.
"That shows in the exciting signings we had and the youth we're bringing into the team and that helps people like me to stay useful too."
Wilcox also coaches the Wales national netball team and Drane believes this has had a positive effect on netball domestically and internationally with Wales.
"The consistency of the coaching and the management is shining through and into Wales as well with the core group of players."