Haye wants to fight at Cardiff's Principality Stadium in December
Last updated on .From the section Wales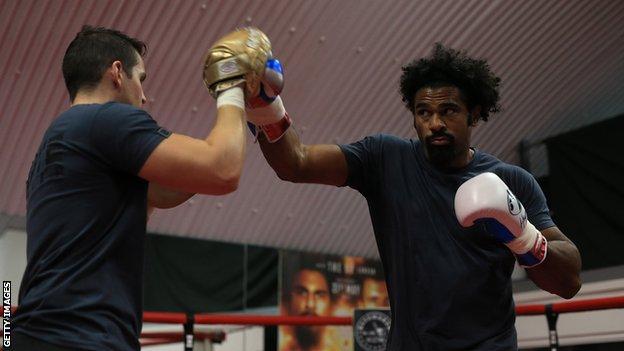 David Haye is hoping to bring boxing back to Cardiff's Principality Stadium for the first time in nine years.
Former cruiserweight and heavyweight world champion Haye has announced he will return to the ring on 10 December.
"We've just got to wait for some formalities before we can officially announce anything. But we are looking at big, big venues," Haye told BBC Radio Wales.
"A venue like that Cardiff, you don't often get big fights there."
The Principality Stadium, formerly known at the Millennium Stadium, has hosted boxing three times, culminating in over 50,000 watching Joe Calzaghe's unification victory over Mikkel Kessler in November 2007.
"There is nothing confirmed as of yet, we are looking to finalise a few things, but things are looking very positive [about Cardiff] at the moment," Haye said.
"We remember Calzaghe v Kessler, I have been getting a lot of tweets about the potential of fighting at the stadium, so we will see.
"I remember Joe Calzaghe there, it was a long time ago, but fingers crossed, boxing returns there in the near future."