Tennis Wales still keen to host future Great Britain Davis Cup tie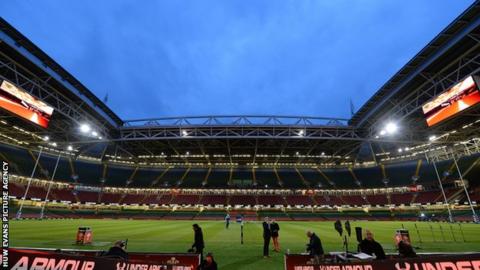 Tennis Wales chief executive Peter Drew is still hopeful Wales will stage a major British Davis Cup tie in future.
Glasgow's Emirates Arena will host this year's semi-final between defending champions Great Britain and Argentina in September.
The Principality Stadium in Cardiff has been suggested as a possible venue for a future tie.
"We just need to get the right opportunity at the right time," Drew said.
"Everyone is definitely keen to bring one of those big Davis Cup matches to Wales."
Great Britain beat Belgium to secure the Davis Cup for the first time since 1936 in November 2015.
Cardiff was due to host last year's final at the home of Welsh rugby had Britain been at home against possible opponents Argentina, but they were beaten by Belgium in the last four.
This year's semi-final will be held in Glasgow on 16-18 September with the winner facing either France or Croatia in the final on 25-27 November.
However the Principality Stadium would be unavailable for the final as Wales host South Africa on 26 November during rugby union autumn Test series.
Drew concedes the timing of the Davis Cup final makes it hard to bring the event to Cardiff.
"It was not to be, but maybe next time, fingers crossed something like that might happen again in the future," Drew told BBC Wales Sport.
"We're certainly pushing and we know the Lawn Tennis Association (LTA) and British Tennis are keen to work with us on that as are the Welsh Government and Sport Wales."
Drew says Tennis Wales would consider other venues such as Cardiff's Motorpoint Arena or the Wales Ice Arena but thinks the Principality Stadium is the best option.
"We'll look at those sorts of venues but it's a capacity thing and it requires quite a few things to be in place to make it an ideal venue to host a Davis Cup tie," he explained.
"You have to have a high seating capacity because we're at the top of the Davis Cup and it's bringing in big crowds now.
"The Principality would be an amazing venue to host a Davis Cup tie."