Rio 2016: Zika fears overblown, says Welsh sailor Hannah Mills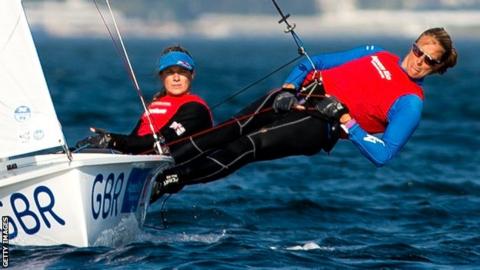 Welsh sailor Hannah Mills says worries over the Zika virus at this summer's Olympic Games "have been blown out of proportion".
Four of the world's top golfers have pulled out of Rio, blaming their withdrawals on the mosquito-borne virus which has been linked to brain defects in newborn babies.
Mills, 28, says not competing at the Olympics never crossed her mind.
"It's one of those slight unknowns in terms of Zika," she said.
"All we can do is take as much mosquito repellent as possible.
"[We'll] just be sensible about it. I think sometimes things get slightly blown out of proportion."
Jason Day, Jordan Spieth, Rory McIlroy and Dustin Johnson will not be in Rio but only one female golfer has pulled out, with South Africa's Lee-Anne Pace blaming the Zika virus.
The biggest issue in the build-up to the Games for Mills and partner Saskia Clarke, who won 470 class silver at the 2012 London Olympics, has been Rio's water quality.
Mills says rubbish floating at the sailing venue was a "big deal" and could hinder their chances of winning gold.
World Sailing said in May it was encouraged by improving water quality at Guanabara Bay in Rio having said in December it needed major improvement.
"I think the authorities are doing the best they can in the timeframe left," Mills added.
"They're putting a lot of effort in clearing rubbish off the race courses, which is a big deal for us because if we hit it we stop, which is never good."
Mills and Colchester-born Clark were 2012 world champions in the 470 class before winning Olympics silver a few months later.
The pair head into the Olympics in good form having won gold at the Hyeres World Cup regatta in France in May.
"This time around we feel better prepared and more ready for what the Olympics are and what it will throw at us," Mills said.
"We're confident in our build up and our preparation. We feel really excited to get there and get going."