Tour de France 2016: Team Sky rider Geraint Thomas getting stronger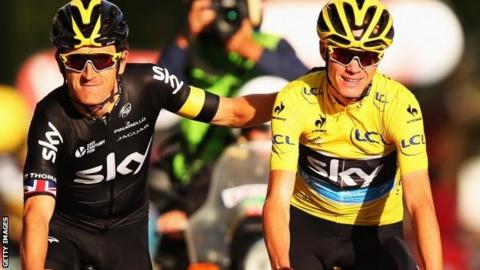 Team Sky cyclist Geraint Thomas says there is more expectation on him in this year's Tour de France after his performances in the race 12 months ago.
Thomas spent most of last year's Tour in the top 10 and is again supporting defending champion and current leader Chris Froome in the 21-stage race.
The Welshman is 16th after nine stages, three minutes 20 seconds behind Froome, but feels his best is yet to come.
"As the race has gone on I've been feeling better and better," he said.
"Obviously there's a bit more expectation, but the start didn't really go to plan.
"I crashed in that first day and really hurt my ribs and was really struggling the first few days."
Read Geraint Thomas' Tour de France 2016 stage-by-stage guide
Thomas' impressive display at last year's Tour de France helped Froome win a second title with the Cardiff-born rider ultimately finishing 15th.
2015 was a standout year for the 30-year-old as he secured victory in the Tour of the Algarve and a first classic win.
The double Olympic gold-medallist is helping Froome chase his third title and feels his own form will stand him in good stead for the remainder of the Tour.
"Hopefully that can continue and with the last week being the hardest, hopefully that will be a good thing."
He admits 31-year-old Froome is a motivating force in the Team Sky camp.
"He gives you a lot of confidence and everyone really ups their game when he talks in the meeting," said Thomas, adding: "He's a great guy to ride for."
Team Sky have once again performed strongly at this year's Tour and Thomas puts their success down to doing the basics well.
"Everyone thinks we do something that's crazily different," he said.
"Even riders ask me, 'What do you eat, don't you have some special diet plan?'
"It's simple stuff. Just ride your bike, rest and eat well.
"There's no magic formula, it's just hard work."