Sally Peake: Pole vaulter targets Welsh record and place at Rio 2016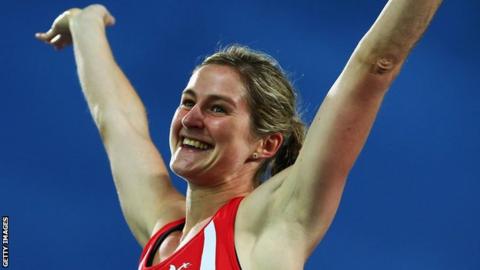 Pole vaulter Sally Peake hopes victory at Saturday's Welsh Senior Athletics Championships in Cardiff will take her as step closer to the Olympics.
Peake won silver at the 2014 Commonwealth Games in Glasgow and is targeting a Team GB spot in Rio.
The 30-year-old aims to break the Welsh record, which she currently holds, at Cardiff International Sports Stadium.
"I've done a lot of competitions trying to get the magical bar that is the Rio qualification," Peake said.
"There's quite a few goals for the weekend.
"A personal best would be nice and would also be a Welsh record. I've equalled it so far this year so I'd really like to step that up a notch."
British Athletics has set 4.50m as the qualification standard for Rio with Peake setting a personal best of 4.40m.