South Wales Scorpions relocate to Caerphilly
Last updated on .From the section Wales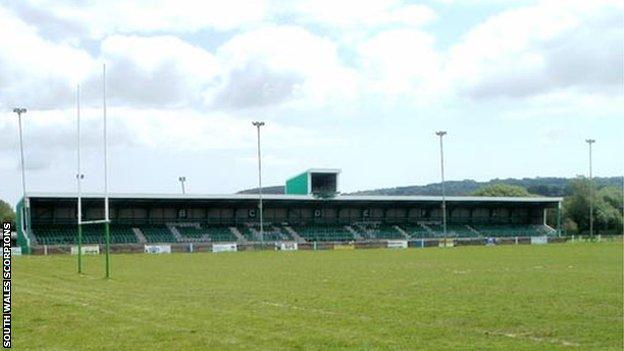 Rugby league club South Wales Scorpions will move to ground-share Caerphilly RFC's Virginia Park home.
The Kingstone Press League 1 side will sign an agreement for a minimum of three years and contribute towards ground maintenance and improvements.
Scorpions played at Mountain Ash RFC last season, but for the new season will return to a ground where they staged three league matches in 2011.
Virigina Park has also hosted a number of Wales RL junior internationals.
Scorpions director Marc Lovering said: "After gaining and listening to feedback from all, fellow director Neil Williams and I came to the conclusion that this is the right move for the club.
"Virginia Park is more accessible for the majority of players, staff and supporters with easy access to the motorway network and being just over the mountain from Cardiff with good transport links both by bus and train.
"The fact the club had led somewhat of a nomadic existence over the past few years weighed heavily our minds when considering a possible relocation.
"However, the opportunity to move to the historic Caerphilly RFC which affords the club greater security of tenure and an opportunity to finally bed down in one location couldn't be ignored."
Keighley will be the Scorpions' first visitors there in the 2016 Kingstone Press League 1 season on Sunday, 6 March.