Mountain Bike: Carpenter happy with World Championships silver
Last updated on .From the section Wales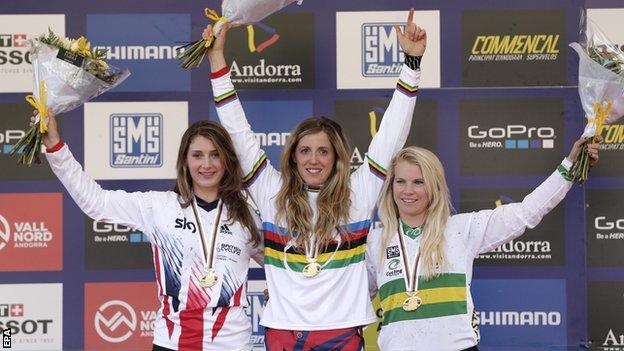 Manon Carpenter saw British rival Rachel Atherton take her World Championships crown in Andorra on Sunday, but took silver as consolation.
But this season Carpenter has finished as runner-up overall in the downhill mountain bike World Cup and World Championships behind Atherton.
"It was going to be hard to beat last year, but coming second I can't really complain about that," Carpenter said.
Crashes and a disqualification early in the season put Carpenter out of the World Cup title race this year, but second place finishes in three of the final four rounds indicated she was getting back to her best.
But it was not quite enough to prevent Atherton reclaiming the World Championships title she had won in 2013.
"After the year I've had I'm quite happy. I got a second at the World Cup and second at the World Champs," Carpenter said.
"It's been a big learning experience... and I've got lots of plans now for this off-season.
"I'm feeling good now, I've spent the whole year trying to get back to where I wanted to be on my bike and now I kind of feel comfortable."
Atherton clocked five minutes 8.488 seconds in Andorra, with Carpenter 3.238 seconds behind and Australia's Tracey Hannah in third.
"Looking at the times I was a little bit gutted, I lost all my time at the top third of the track and then was on pace for the rest of it," Carpenter added.
"You come to World Championships to go for gold, but yeah I'll settle for second.
"We had a time trial [on Saturday] and I was quite a way off the pace, but I gave it a lot on my race run so I don't feel like I held back."