Nathan Cleverly wants Juergen Braehmer fight in September
Last updated on .From the section Wales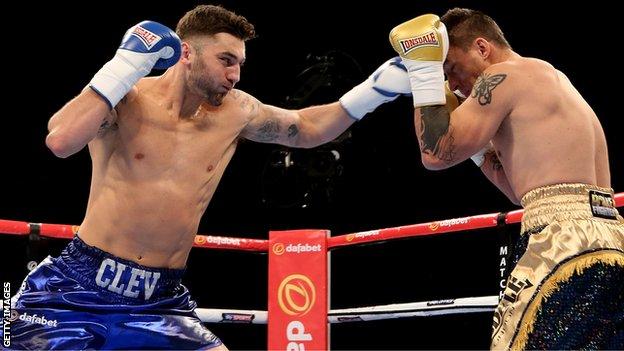 Nathan Cleverly is targeting WBA light-heavyweight champion Juergen Braehmer in September as his next fight.
The Welshman, 28, made his comeback at the weight - having lost to Tony Bellew at cruiserweight in November 2014 - with a 24-second stoppage of Czech journeyman Tomas Man on Saturday.
Braehmer was due to fight Cleverly in 2011 but pulled out injured, which saw the Welshman inherit his WBO title.
"It's been provisionally agreed for September," Cleverly confirmed.
"Let's hope these guys will step up to the plate and finally take me on.
"It's been four years in the making the Juergen Braehmer fight, so it's time we get it on."
Cleverly went on to defend his WBO belt five times with wins over Aleksy Kuziemski, Bellew, Tommy Karpency, Shawn Hawk and Robert Krasniqi.
But Sergey Kovalev took Cleverly's title with a fourth-round stoppage in August 2013, handing the Welshman the first defeat of his professional career.
Cleverly stepped up a weight division after that, winning the vacant WBA Inter-Continental cruiserweight title against Shawn Corbin and defending it against Alejandro Emilio Valori.
That ushered in a return against Bellew, but in a weight division that seemed to favour the Liverpudlian who won a split decision after a gruelling 12-round fight.
Now that Cleverly has returned to his natural light-heavyweight division, the Welshman intends to mix it back amongst the best.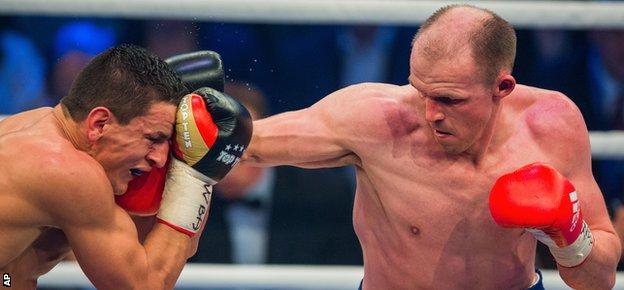 "I've got the buzz back for boxing... and when I've got the buzz for boxing I'll be a very, very hard guy to beat," Cleverly said.
"I genuinely believe I'm going to go to the heights in this sport again, where I was when I was 24 years of age - world champion - I'll be back there soon.
"I'm back where I belong now at light-heavy and I'm excited for the future.
"We need to be back at world level, because by fighting guys at Commonwealth, British and European level we're going to get similar instances as [against Man].
"When I was in my 20s I breezed through that level, when I was a 20-year-old light-heavyweight that level was comfortable for me.
"So let's get challenging myself, where I want to be with the big fights, the world champions, and that's where we're going next - no messing about, straight in with the big guys."
Cleverly was fighting at the O2 Arena on Saturday on a promotion that saw fellow Welshman Lee Selby impressively claim the IBF featherweight title by beating Russia's Evgeny Gradovich.
Man, 38, came into the fight with a record of 13 wins, eight losses and one draw - mostly at super-middleweight.
But he was clearly outclassed, failing to land a punch on Cleverly as the Welshman went after the Czech from the start.
"It was just a matter of getting out there, making sure I made light-heavyweight comfortably on the scales," Cleverly said.
"I felt good at the weight, I feel strong, I feel sharp and I fought this guy straight from the first bell, caught him with a nice jab and went straight downstairs to his body.
"I totally sunk him, it was a good shot... it was a great return, 24 seconds I'm happy with that.
"There was no point going the distance with this guy, I'm expected to take him out.
"I'm a world-level fighter, so get in there and get the job done and move on to where I belong at world championship level."