Jade Jones misses out on Worlds medal as scoring freezes
Last updated on .From the section Taekwondo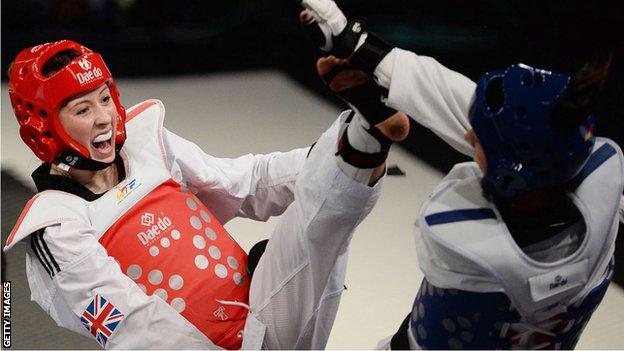 Britain's Olympic champion Jade Jones missed out on a medal at the World Taekwondo Championships in Russia amid controversy when the electronic scoring system froze during her quarter-final.
Jones and Iranian Kimia Zenoorin were level at 9-9 in the -57kg division when the 22-year-old from Flint struck with a reverse to the chest with seconds to go.
Zenoorin countered as the scoring froze and, by the time it came back online, only the Iranian had been awarded a point and Jones went out 10-9.
"The scoring system crashed and when it returned, I didn't have the points. I couldn't understand why. I still can't," Jones told the GB Taekwondo website.
"It was a really tight match but I thought I had it when I scored the spinning back kick," she said.
"She's a tough opponent and fought well. I know I could have perhaps covered better but it's so frustrating to see good shots not awarded points when there is so much at stake."
Jones was unbeaten in her previous six tournaments and a win in Russia would have given her automatic entry to the 2016 Olympics in Rio.