The day Norton's Coin defied the odds
By Aly Rowell
BBC Wales Sport
Last updated on .From the section Wales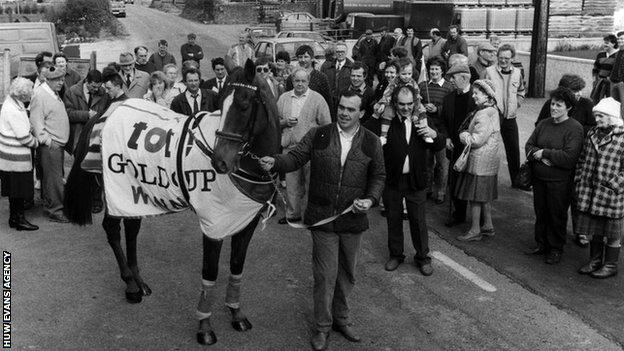 As the 2015 Cheltenham Festival builds to Friday's Gold Cup, older fans will remember the day 25 years ago when a Carmarthen dairy farmer stunned the racing world with his 100-1 outsider, Norton's Coin.
Sirrell Griffiths had just a couple of horses in training back in 1990.
"It was my hobby," says the now 76-year-old.
"I never had any ambitions and was quite happy just working with the horses at home and having the odd runner in a race."
In 1989 a "plain looking" chestnut horse called Norton's Coin, who he'd nurtured from the point-to-point field, won a valuable chase at Cheltenham in April and suddenly was being talked about as a possible Gold Cup horse.
"I wasn't going to enter the horse for the Gold Cup, but when I heard that trainer Jenny Pitman was entering one that Norton's Coin had beaten, it made me think that perhaps I should enter him as well at one of the handicap chases at the meeting," he said.
However, when Griffiths came to enter he discovered he had missed the deadline for the handicap chase so was forced to race him in the Gold Cup.
"I was angry with myself for days as he would have had a nice weight in the handicap and a really good chance," he recalls.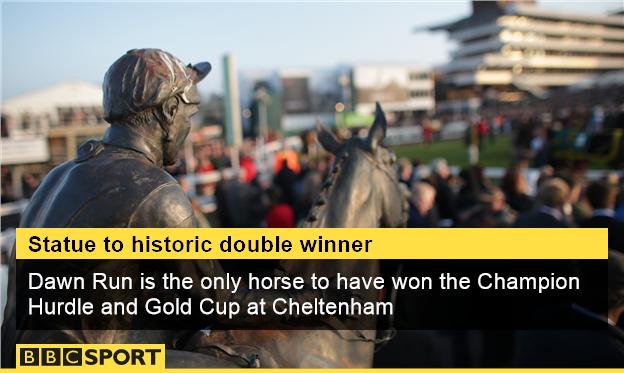 "We discovered he had an infected throat after running so badly at Newbury in February that year.
"He went on medication and I didn't think I'd ever get him right as I only had six weeks.
"However, eight days before the race he went to Lambourn and did a really good piece of work so that got my hopes up.
"I had to pay £1,000 to enter the Gold Cup, so I just wanted to finish in the top six to cover my costs."
Only having two horses at his yard, Griffiths rode Norton every day. No all-weather gallop - he would ride him around the lanes and occasionally take him to the local beach to keep fit.
"More a candidate for last than first," said Griffiths.
That was the view of the official Cheltenham racecard on Friday 15 March, 1990.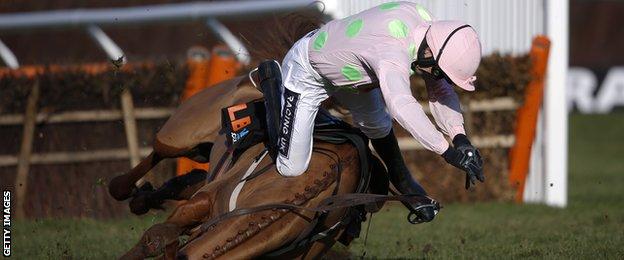 After milking his cows, Griffiths drove the horsebox himself to Cheltenham with his chestnut gelding on-board.
Focus in the build-up to the race was all on Desert Orchid, the popular grey horse who was back at the festival to defend his title.
Norton's Coin headed to the blue-riband race of the festival in hope rather than expectation, but by the third-last fence, Griffiths started to believe.
"He kept getting a bit closer and a bit closer all the time and I could see before the last that he was going to win if he cleared it," said Griffiths.
"I was worried that he would get to the front too soon as he would pull himself up."
As Desert Orchid faded, Graham McCourt took Norton's Coin to the front, 50 yards from the line, for a three-quarters-of-a-length victory over Toby Tobias, with 'Dessie' another four lengths away in third.
The course record was broken in the process by the 100-1 outsider.
"I couldn't believe he'd won. And I didn't believe it until sometime afterwards.
"I remember doing an interview with the BBC and just hoping nothing had gone wrong and he wouldn't lose the race on an objection or something.
"I did so many interviews that day, but I can't remember what I said. It was a daze!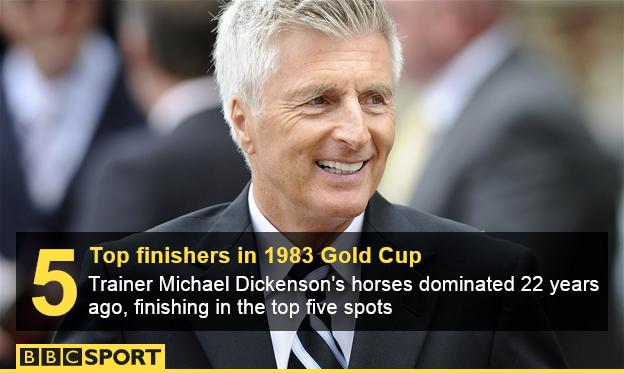 "The trophy presentation was made by the Queen Mother, who herself was a keen racehorse owner. She was lovely, I could have talked to her all day.
"Someone had filled her in and told her that I came from west Wales and milked a few cows.
"She said to me 'I think it's marvellous to think that you've only got two horses and you can win a race like this. To think that my husband and I had racehorses almost all our lives and we haven't won a race like this'."
Equally remarkable was the horse's breeding. In 1979, Griffiths purchased an unheralded stallion and mare for the joint sum of £1,160.
The only foal the mare produced was 'an ugly plain chestnut' in Griffiths' words.
"I had the chance to buy the foal but he was so plain I turned him down. Only when he started to do well on the point-to-point field did I take an interest, but by then I had to pay a fair bit more to have him back.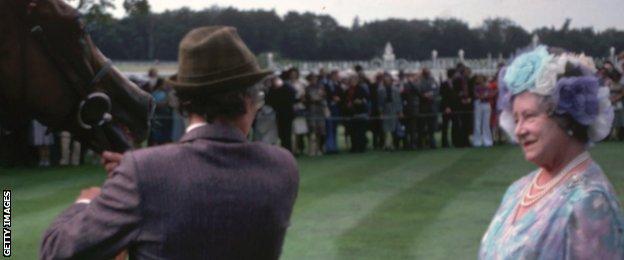 The horse became something of a celebrity in west Wales in the aftermath of the race but for Griffiths, nothing changed.
"About 26 or 27 individual people called me up and asked me if I'd train their horse, but I said 'no' to each and every one of them.
"My answer was always the same, 'I live too far away'.
"All the travelling is too difficult from west Wales. I don't know how Peter Bowen and Rebecca Curtis do it, but I guess the opening of the Ffos Las racecourse does help."
Norton's Coin was retired in 1993 and died as a 20-year-old in 2001.
Griffiths still has a "string" of two horses now, but the cows have gone and been replaced by about 250 sheep.
Since the Gold Cup in March 1990, Griffiths has averaged one winner a year with his last in March 2012.
He does not have anything good enough to run at Cheltenham this year, but he's been there, done that, and the memories burn as brightly as ever.