Gareth Warburton and Rhys Williams face dope hearings delay
Last updated on .From the section Wales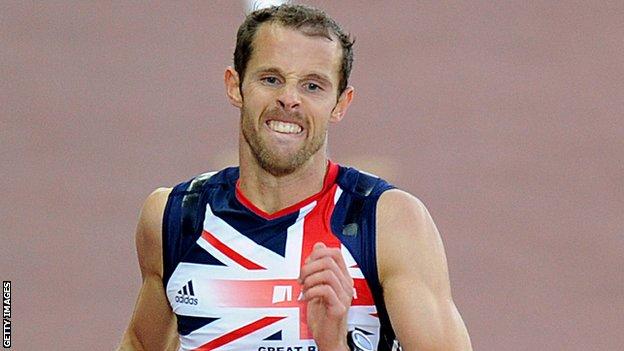 Welsh athletes Rhys Williams and Gareth Warburton have had the hearings into their failed drugs tests delayed until December.
Williams, 30, the 2012 European 400m hurdles champion, missed the 2014 Commonwealth Games after testing positive in both his A and B samples at the Glasgow Grand Prix on 11 July.
Warburton, 31, an 800m specialist, was also charged with a doping offence.
Both athletes deny knowingly taking any banned substance.
Sport supplement manufacturer Mountain Fuel is at the centre of the allegations.
The Welsh company is co-operating with the enquiry to ascertain whether any of its products could have been responsible for the failed drugs tests.
Mountain Fuel was not available for comment, but its chief executive Darren Foote has previously stated that he is confident that the supplement, which costs £1.75 per sachet, is not responsible.

Both Warburton, the the 2005 European Indoor 4x400m silver medallist, and Williams are banned from all competition by UK Anti-Doping pending a hearing,
However, Williams, son of former Wales and Lions rugby player JJ Williams, has returned to training in the hope his career can continue.
The delay in Williams' and Warburton's drugs hearing is so that both cases can be heard together, but a UK Anti-Doping spokesperson "would not make any comment" on the "confidential process".
A UK Anti-Doping statement confirmed that sanctions can "vary in anything from a warning to a lifetime ban depending on circumstances".
But it is understood that both athletes are at the lower end of the spectrum and looking at bans between one to four years if found guilty.