Welsh hurdler David Omoregie following in Colin Jackson's path
Last updated on .From the section Wales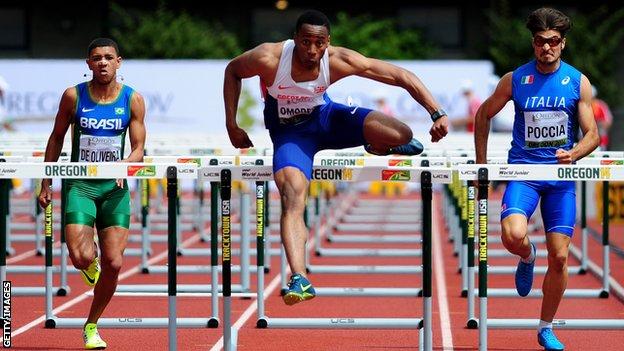 Welsh 110m hurdler David Omoregie ran the third fastest time in World Junior Championships history as he qualified for Wednesday's semi-final.
The 18-year-old ran 13.24 seconds in Oregon in the United States, just 0.06sec off the Championships best.
Omoregie has been compared to Wales great Colin Jackson, the former world 110m hurdles record holder.
"Last year I wasn't focusing on hurdles as such, as I was doing decathlons and so doing everything," said Omoregie.
"However, I was getting quite quick over the hurdles and qualified for the European Junior Championships, which was really cool."
Omoregie is attending his first major championship event as a specialist sprint hurdler and is among the favourites to bring back a medal for Team GB after some breathtaking performances both indoors and out this year since he began concentrating on the high hurdles.
The Cardiff Athletics Club athlete's main rival for gold in the USA will be France's Wilhem Belocian, who struck bronze at the event two years ago.
They met in the final of the European Junior Championships in Rieti, Italy, last year, when the Frenchman set a European Junior record of 13.18sec.
"When I got out to Rieti I ran two PBs and I surprised myself a lot. So, after that, my coach and I thought the sensible thing was to just focus on the hurdles and last winter I gave up the multi-events and just focused on the hurdles," Omoregie added.
"I came out in January running some pretty fast times indoors. Outdoors as well I've just kept surprising myself - it's been great.
"I couldn't train on the Thursday before Bedford as my car broke down, so I was actually a bit nervous and just wanted to get through the trials and win. After the final, I was so happy and didn't really know what to say.
"It was even into a slight headwind, so if we get a nice tailwind in Oregon I can maybe run a bit quicker."