Christian Malcolm a Welsh athletics great - Linford Christie
Last updated on .From the section Wales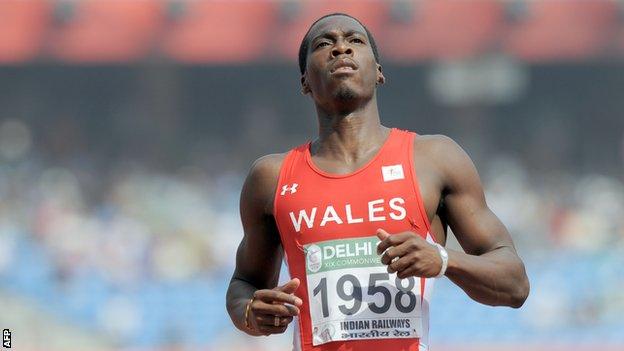 Welsh Athletics International
Venue:
Cardiff Athletics Stadium
Dates:
15 July, 2014
Start:
19:00 BST
Coverage:
Updates on BBC Radio Wales
Former Olympic 100m champion Linford Christie says Christian Malcolm will retire as one Welsh athletics' greats.
Injury scuppered 35-year-old Malcolm's hopes to bow out at the 2014 Commonwealth Games in Glasgow.
"Hopefully his country will remember him as one of the greats," said Christie.
"He's definitely in my book one of the Welsh greats."
On Twitter Malcolm confirmed Tuesday's meeting, where he will run in the 4x100m, will be his last in Wales.
"Thanks for all your support," he tweeted. "Overwhelmed! This will be my last race on home soil. Still hoping to continue for the rest of the season!"
Malcolm was regarded as a competitor of immense potential after he won the 1998 World Junior 100m and 200m titles.
But injuries and illness have dogged Malcolm's career, leaving him so unlucky as to have missed out on an Olympic gold when Great Britain's Men's 100m relay team triumphed at the 2004 Athens Games.

"Everyone wants to go out to be an Olympian or an Olympic medallist, but Christian was unlucky," said Christie.
"Even the time when GB won the 4x100 in Athens [2004 Games], he was due to be on that team and he got injured - it's just one of these things."
Malcolm failed to reach the 200m final at the Welsh Athletics Championships in Cardiff in June to effectively end his bid to take a place in the Wales team heading to Glasgow.
The Newport sprinter's Achilles tendon problem saw him miss the whole of 2013, including the World Championships in Moscow.
Malcolm has competed at four Commonwealth Games, winning 200m silver in Kuala Lumpur in 1998 and a bronze in the same event in Delhi four years ago.
Christie won Olympic 100m gold at the 1992 Barcelona Games and was among the leading sprinters of his generation.
He later went into coaching and counts Malcolm among those athletes to have worked under him.
"As a person who coached Christian for a lot of years ... he'll be sorely missed," Christie told BBC Radio Wales.
"He's been a the top of Welsh and British athletics, especially over the 200m for quite a long time.
"He won the World Juniors 100m and 200m, which very few have achieved."
Christie is also full of admiration for the way in which he battled back to full fitness on numerous occasions.
"It shows his determination. It's unfortunate - in our sport injuries is something that you have no control over at all - and he's kept coming back and back and back.
"I still think he's young, but it's best sometimes to go out at the top and be remembered that way by your public.
"I think that when you come good young, everyone expects a lot.
"I suppose that puts an awful lot of pressure on an athlete and again, injuries is something we cannot control.
"You can have all the abilities in the world, but injuries hit you and I think it is a shame."
The Welsh Athletics International at Cardiff Athletic Stadium in Leckwith will bring together Wales' leading stars to compete against athletes from countries including Australia, Bahamas, Greece, Jamaica, New Zealand and USA.
The event will also feature many other Commonwealth Games-bound stars, including Wales captain Aled Sion Davies.
Davies, the double world champion and double Olympic medallist, is a guest in the men's discus competition, alongside Glasgow 2014 medal hopeful Brett Morse and decathlete Curtis Matthews, another who is going to this summer's Games.
Delhi 2010 silver medallist Carys Parry throws in the women's hammer.