Colin Jackson: Hurdler Dai Greene can return to the top
Last updated on .From the section Wales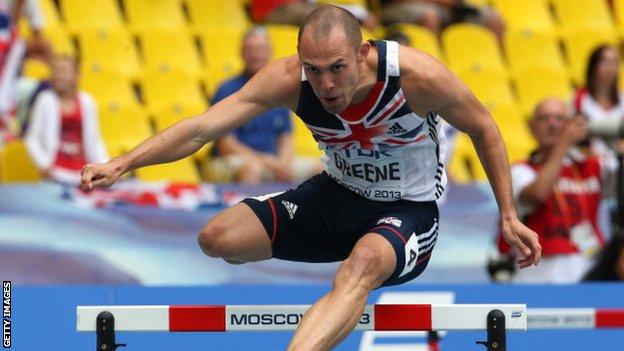 Former world champion Colin Jackson believes 400m hurdler Dai Greene, has an opportunity to get back to the top.
Javier Culson won the event at the Diamond League meeting in Glasgow on Friday in a time of 48.35 seconds.
Jackson said the modest times posted by Greene's rivals, as he aims to get back to full fitness, will encourage him.
"I'm still a little bit disappointed that we still haven't seen anybody go under 48 seconds this year," said Jackson.
"It's taken a little bit of time for this event to wake up.
"I guess for someone like Dai Greene it still gives him an opportunity in his mind to say: 'Do you know what? If I get anywhere near top form, top shape, I won't be far off being a world leader yet again'."
Greene's Welsh team-mate Rhys Williams finished sixth in the race at Hampden Park in 49.75, under the 49.80 qualifying time needed for the European Championships in Zurich in August.
Commonwealth champion Greene did not take part but won on his return to competition on Tuesday 8 July, after three hernia operations last year.
The 28-year-old beat world champion Jehue Gordon into second place at the Gyulai Memorial Meeting in Hungary in a time of 49.89, just over two seconds slower than his personal best of 47.84.