Manon Carpenter secures second World Cup series victory
Last updated on .From the section Wales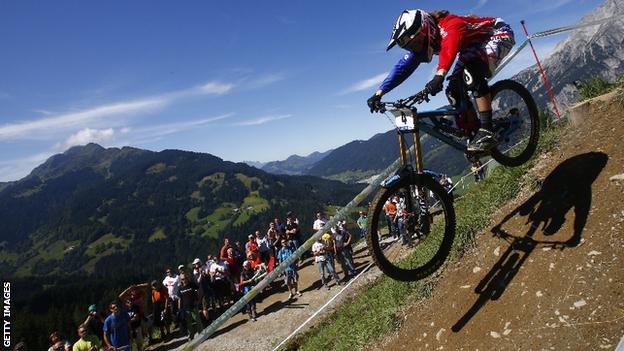 Wales' Manon Carpenter retained her lead in mountain biking's downhill World Cup series after victory in round four in Leogang, Austria.
She secured her second win of the season, finishing three seconds clear of Wales-based Rachel Atherton.
The 21-year-old has opened a gap at the top of the standings with three rounds remaining.
Carpenter won the Junior World Championship in 2011 and took bronze in the 2013 World Cup series.
Speaking before the race in Austria, the Welsh biker had spoken of her ambition to win the series.
"I'd love to win the World Cup series. It's the pinnacle, really.," said Carpenter.
"You have the race series, and then we have the World Championships as well at the end of the year - but the World Cup series is almost more important.
"You have seven rounds and it's whoever comes out on top after all seven, so you've got to win races but also be consistent as well."
In downhill mountain biking, each round in the series is individually called a World Cup with seven separate World Cups to compete in per series.
Carpenter went into the race in Austria leading the series after good performances in the first two races, though she came 15th in Fort William, Scotland.
"I was really fortunate [to be leading]," said Carpenter. "I had a problem, a puncture on my race run.
"But fortunately I had enough points in the first two World Cups that the way it all worked out I just about managed to scrape the leader's jersey at Fort William."
Carpenter is hopeful that she can overcome her main rival, fellow British biker Atherton, who won the downhill series in both 2012 and 2013.
"She also had a puncture, it was a really weird race to be honest," said Carpenter, "a lot of us had problems which don't normally happen.
"We had exactly the same points going into Fort William so it was quite a tight race really, quite an important race for us.
"And it's tight again now, so i'm looking forward to seeing what happens next this weekend."