Glasgow 2014: Wales judo coach Craig Ewers to compete at Games
Last updated on .From the section Wales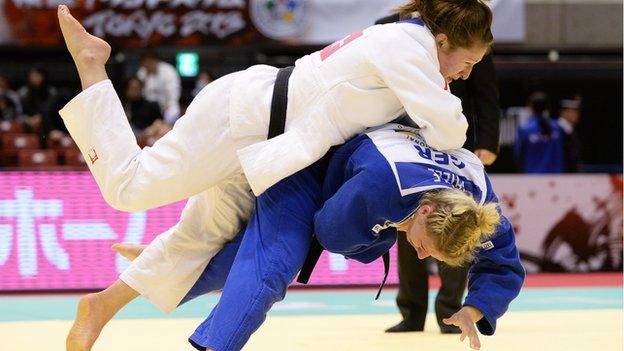 National coach Craig Ewers is to compete in judo for Wales at the 2014 Commonwealth Games in Glasgow.
Darren Warren will cover for Ewers away from the dojo when he challenges in the 81kg class.
Ewers competed at the 2002 Manchester Commonwealth Games for Wales - the last time the sport was included.
Wales also include International Judo Federation 78kg number 13 ranked Natalie Powell among 10 judoka, along with her 57kg sister Kirsty.
Only Ewers has previously been involved in a Commonwealth Games.
He said: "It's fantastic to see judo back on the schedule. It's been 12 years and the sport has developed a lot in that time.
"We have selected a really strong squad to represent Wales in Glasgow and we're all going out there to compete to the best of our abilities and to hopefully bring medals back with us."
Commonwealth Games Council for Wales chief executive Chris Jenkins said: "For nine members of the team it will be their first major multi-sport competition and it will be a great experience for them all."
Wales Judo team
Kyle Davies, under 66kgs
Jamie MacDonald, under 66kgs
Curtis Dodge, under 73kgs
Connor Ireland, under 73kgs
Craig Ewers, under 81kgs
Ruslan Rancev, under 100kgs
Mark Shaw, over 100kgs
Jade Lewis, under 52kgs
Kirsty Powell, under 57kgs
Natalie Powell, under 78kgs