Enzo Maccarinelli wants Bernard Hopkins world title fight
Last updated on .From the section Wales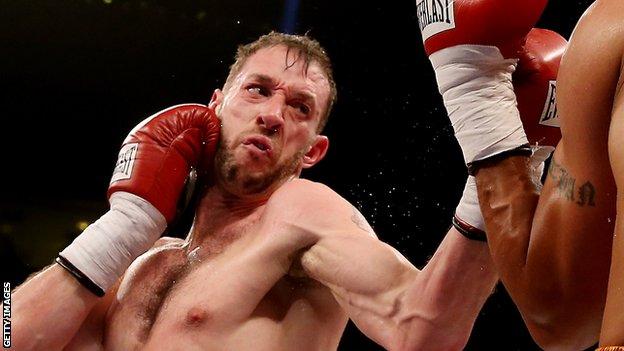 Welsh light heavyweight Enzo Maccarinelli says he hopes to have a shot at the world title soon.
The Swansea boxer told BBC Wales Sport if he had a choice he would like to challenge one title holder in his new division, in particular.
"Ideally it would Bernard Hopkins," he said.
"Purely for the fact to share a ring with a legend. First and foremost I'm a boxing fan. It would be a dream come true.
"But if I could get any fight with any of the champions it doesn't bother me. I'm in a happy place.
"I'm just enjoying it, probably for the first time since the David Haye fight."
Hopkins, 48, retained his IBF light-heavyweight belt in October with a unanimous points victory over Germany's Karo Murat to become the oldest fighter to defend a world title.
The Swansea boxer did not have to put his Commonwealth belt on the line for his most recent win as 38-year-old Fry failed to make the weight.
A quick finish looked on the cards when Maccarinelli floored Fry in the very first round with a powerful combination.
But Maccarinelli was forced to wait until the sixth to down Fry again before forcing a seventh round stoppage.
"It wasn't a great performance, it was a solid performance," said Maccarinelli.
"After the fourth round, where I let Courtney Fry have his best round, I tucked it up nice and tight.
"I was trying to gage and see his reaction, see what shots he was throwing and maybe I was letting him do it too much without throwing the counter back.
"As soon as I gauged which way he was going I started putting him down in the sixth round."
Maccarinelli, who won the Commonwealth title in August, admits he had been guilty of going through the motions in recent years.
"It's well documented about my son having autism and losing my dad," Maccarinelli added.
"They were big things for me and I just wasn't enjoying it. I was just boxing because that was the only thing I knew how to do.
"But now I'm actually enjoying it again. Everything we do now is gauged to make me a better fighter."
Maccarinelli who turned 33 in the summer says he is focused on enjoying the remainder of his boxing career.
"I'm only going to retire when I want to retire," he said. "Nobody's going to make me retire.
"I haven't got long left in the game, but I live right, I train hard, I eat clean. I don't drink, I don't smoke.
"I'm enjoying the sport. It's onwards and upwards."