Jonathan Trott: Simon Jones shocked by batsman's tour return
Last updated on .From the section Wales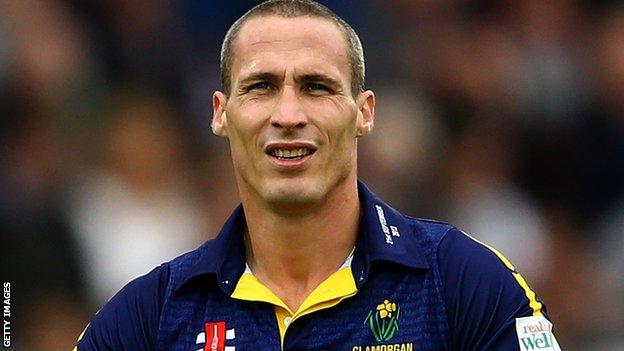 Ex-England Ashes winner Simon Jones admits he is shocked to see Jonathan Trott return from Australia because of a stress-related condition.
Jones, who helped England win the 2005 Ashes, said he felt for Trott.
Trott scored 19 runs in two innings during England's first Test defeat and struggled against the bowling of Mitchell Johnson.
"To hear he has to fly home with a stress-related illness is shocking," said Jones.
"We all feel for him. If he had broken a finger you would understand more but for him to go home with mental issues - then very worrying.
"It's a big blow for England. He has been the backbone of their batting for many years now.
"For Trotty to go home this early on in the tour is a warning to others. As a race and a people, we have to be more understanding towards others.
"He is at the peak of his powers and he's still having issues. I think it is something people have to be aware and be a bit more sympathetic."
Like Trott, Jones' tour in 2002/2003 ended in Brisbane after he injured knee ligaments fielding in the outfield and spent more than a year out of the game.
Though David Warner has now apologised for his comments about Trott after calling him "poor and weak" during the first Test Jones has warned the Australian batsman about his comments.
"Someone like David Warner has to be careful because he is not that experienced in that Aussie team and I think he needs to think a little more before he speaks in future," said Jones, who played 18 Tests for England.
"If I was going to message the Aussies they should be a little bit careful here. They have won one. There's four left. There's a long way to go.
"If they want to playing these mind games game it could come back to bite them. Cricket is a funny game sometimes. You can be top of the pile one minute and bottom the next."
On the psychological effect of cricket Jones added: "It's huge. Cricket is one of the toughest sports in the world [psychologically]. It's over five days - that's nearly over a week.
"For these guys to stay focussed and perform as they do is a sign of mental strength."