World Cup of Golf: Stuart Manley hits hole-in-one - then takes 11
Last updated on .From the section Golf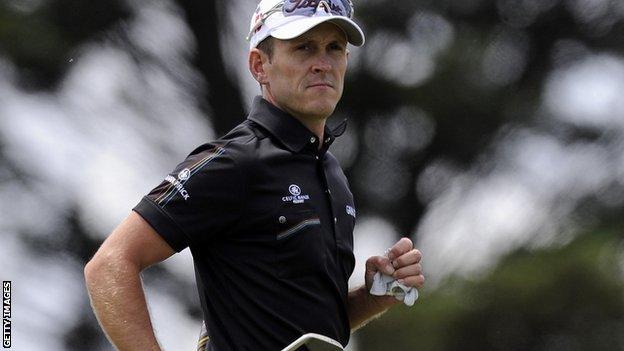 Stuart Manley says a two-hole spell on the third day at the World Cup of Golf in Melbourne is the highest and lowest he has felt as a professional.
The Welshman hit a hole-in-one at the third and thought he had won a Mercedes - only to discover the prize was only on offer during the final day.
He then took 11 at the next hole, the highest score of his career.
"It's the highest high and then the lowest low I've ever experienced on a golf course," said Manley.
"I thought the car was mine, and with the crowd, all the hype, I was just buzzing. The adrenaline was pumping so much, I could have flown to the green.
"Then I found out about the car and go and have an 11. I kept asking my caddie: 'How many shots is that now?' I actually thought it was a 10 but I was not going to argue because my head was pretty fried.
"I didn't know whether to laugh or cry at that point, but you've just got to pick yourself up and get on with it."
The 34-year-old did bounce back with two birdies and an eagle to move him back to a level par 72 for the day - although he dropped to a tie for eighth place on two under at Royal Melbourne Golf Club.
"Even though it probably sounds a bit strange, I'm actually quite proud of the way I held it together after my 11," said Manley.
"I am pretty strong mentally. My caddie said a lot of people would have folded after that, but I made some good chances after that and I just kept plugging away.
"If somebody had told me I would have finished on two under at the end of the day after taking an 11, I would have taken it.
"I won't forget this day for a while, talk about mixed emotions. But hopefully it'll have a happy ending."