BBC Wales Sports Personality of the Year 2013
Last updated on .From the section Wales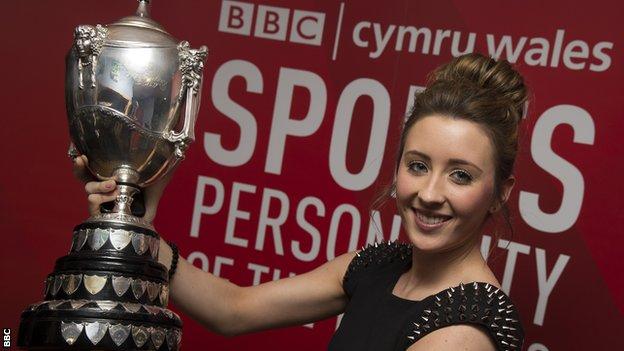 Voting for this award closed at 19:00 GMT on Saturday, 7 December 2013.
The winner of BBC Cymru Wales Sports Personality of the Year 2013, will be announced on Monday, 9 December after a public vote which has now closed.
He or she will be revealed during the Wales Sport Awards, a new event in which BBC Cymru Wales and Sport Wales celebrate Welsh sporting success. The event will be streamed live online at bbc.co.uk/sportwales.
The five contenders, chosen by an expert panel are:
Footballer Gareth Bale, who became the world's most expensive player when he joined Real Madrid after scoring 26 goals for Tottenham during a season in which he won numerous player of the year awards.
Paralympian Aled Sion Davies, who won two gold medals at the IPC Athletics World Championships in Lyon in July, setting a new world record to win the F42 shot putt before one of the biggest throws of his life saw him win discus gold.
Rugby Union's Leigh Halfpenny was man of the tournament as Wales retained the Six Nations and his performances in the British and Irish Lions' series win in Australia were also widely recognised.
Cyclist Becky James won four medals at the World Track Cycling Championships, including sprint and keirin gold medals and later in the year became the first British woman to be invited to ride in the lucrative Japanese keirin circuit.
Triathlete Non Stanford was crowned ITU World Champion with victory in the World Series Grand Final in London - only 12 months after she won the Under-23 title.
The Wales Sport Awards will be held at the Sport Wales National Centre in Cardiff, on Monday, 9 December from 19:30 GMT.
As well as the live online transmission from bbc.co.uk/sportwales, the winner will also be revealed on BBC Radio Wales, BBC Radio Cymru and appear later that evening on BBC Wales Today on BBC One Wales and Newyddion on S4C.
Other awards to be presented on the night include Coach of the Year, Team of the Year, Junior Sportsman and Sportswoman of the Year, Lifetime Achievement and BBC Cymru Wales' Sports Unsung Hero. award.
A review of the sporting year will be broadcast on BBC Wales television towards the end of 2013.
Please note the event is not connected with the UK Sports Personality of the Year and is for the Wales award only.
GENERAL VOTING RULES AS RELEASED IN NOVEMBER (PLEASE NOTE THIS VOTE IS NOW CLOSED)
1. Voting will be available by telephone and text message from 0800 GMT on Monday, 2nd December 2013 and 1900 GMT on Saturday, 7th December 2013. The candidates list will be promoted across BBC Wales output from Monday 25th November 2013. The numbers to call in order to vote for your candidate will be published on Monday 2nd December 2013. The winner will be announced on BBC Radio Wales at the Wales Sport Awards presentation on Monday night, 9 December 2013 (approx. time 20:30 GMT). The result will also appear online at the same time.
2. Voting is by telephone and text message only. Please note that you cannot vote by email, red button or via this website. Votes will be capped at 5 votes per caller per voting method.
3. Telephone and text votes will open and close as specified above. Votes received outside the specified times or exceeding the maximum set out above will not be counted, but may still be charged. Voting times may change.
4. The BBC reserves the right to cancel or suspend voting at any time.
5. The vote is open to all residents of the UK, including the Channel Islands and the Isle of Man. Please note that BBC employees, their close relatives or anyone directly connected in any way with the production of the programme or the provision of fixed line or mobile telephony services to the programme are not eligible to vote.
6. Each phone vote costs 10PPC from a BT Landline, Other networks may vary. Calls from mobiles will be considerably higher.

PPC = Pence per call.
This table is provided for indicative purpose only. Information provided by mobile network operators 20/11/2013. For up to date information it is always advisable to check direct with your network operator.
Texts will be charged at your standard message rate. Check with your network provider for exact costs
7. Voters must obtain permission from the bill payer before voting. Voters aged 12 or under should obtain parent/guardian consent before voting.
8. If you are viewing the programme through iPlayer or any other time-shifting or catch-up service you should check carefully whether the vote is open before doing so as it may have closed.
9. Make sure you dial carefully only the number or type carefully the short code / keyword combination of the person you wish to vote for.
10. You can vote up to a maximum of 5 times on your telephone or your mobile. The BBC reserves the right to disqualify votes if it has reasonable grounds to suspect that fraudulent voting has occurred or if it considers there has been any deliberate attempt to manipulate the result. The BBC can only guarantee that votes individually entered directly through the telephone numbers or short code / keywords promoted by the programme will count.
11. There are a number of contingencies which could occur. These may include the decision reverting to a back-up panel formed by people from the sports sector, in the event of problems with the phone or text vote or in the event of a tie. Any such use of contingencies will be declared.
12. For the purposes of verifying any claim for refunds (where offered) or investigating possible voting irregularities, the BBC may need to request the network operator to disclose the telephone number that you are voting from.
Please note that this will still be required where you have originally opted not to disclose your telephone number (caller's line identification barring). If you do not agree to this, you should not vote.
Where such investigations are required, the BBC will only ever use your telephone number for the purposes of processing refunds or investigating possible voting irregularities and will not publish or provide it to anyone without permission, except where required for enforcement of these terms. You can read more about the BBC Privacy Policy here.
13. The BBC, its sub-contractors, subsidiaries and/or agencies cannot accept any responsibility whatsoever for: (i) any technical failure or malfunction or any other problem with any telephone network or line, system, server, provider or otherwise which may result in any vote being lost or not properly registered or recorded; and (ii) any of the nominee withdrawing from the event or refusing to accept the award for any reason.
14. The voting in this programme accords with the BBC's Code of Conduct for Competitions and Voting, details of which can be found on the BBC's Standards and Guidelines website.