Cardiff bid for 2016 World Half Marathon Championships
Last updated on .From the section Wales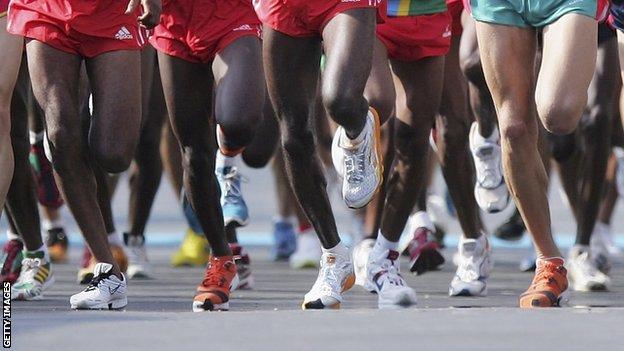 Cardiff has made a bid to host the 2016 World Half Marathon Championships.
The Welsh capital city's annual half marathon will be held on Sunday and this year's race also incorporates the British Half Marathon Championships.
Cardiff's offer to host the World Championships in three years' time was presented to the International Association of Athletics Federations (IAAF) last Friday.
"Cardiff's got a really strong case," Welsh Athletics chief Matt Newman said.
"Part of the overall ambition for the event was to develop the mass event but, at the same time, year-on-year improve the elite field.
"[The] British Championships are in this year's race. We're looking at bringing a Commonwealth event in 2015.
"And obviously that leads us nicely towards a World Championships in 2016.
"But it's a tough process to go through and we've still got some hurdles to jump before we get that puff of white smoke."
The IAAF World Half Marathon Championships is an annual competition which was first held in Newcastle in 1992.
Brussels, Zurich, Edmonton in Canada, Bristol and Rio de Janeiro are among the other cities which have hosted the event, which will be held in Copenhagen next March.
More than 19,000 will take part in Sunday's Cardiff Half Marathon, a record number of runners for the event.
The race will be staged for the 11th year and Newman has been pleased with its growth.
"Over the last three or four years it's grown to almost double in size in that period," Newman told BBC Radio Wales Sport.
"It's been a phenomenal growth and the event has really secured its place in the hearts and maybe minds and feet of the general public.
"We see the Cardiff Half Marathon very much in the company of the Great North Run and the London Marathon.
"We want the public consciousness to be raised to the point where they think of the Cardiff Half as the third best road race in the UK and it's certainly proving that."