World Championships: Dai Greene intends to defend title
Last updated on .From the section Wales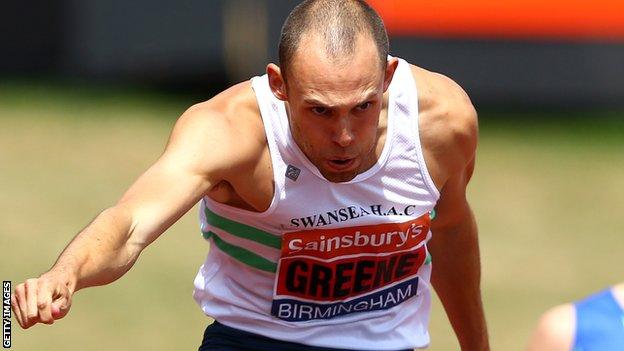 World champion Dai Greene says he intends to defend his 400m hurdles title in Moscow despite injury concerns.
Greene's preparations for the World Championships have been hampered by injury.
The 27-year-old withdrew from races in Monaco and London with an inflamed Achilles tendon but is confident of defending his title in Russia.
"I'll be on the start line no matter what is wrong with me," Greene said.
"Doctors and physios can do incredible things to make sure that you can run without the pain or just tolerate it.
"You can achieve anything when you put your mind to it.
"I'll certainly be on the start line and just hope that my body is going to give 100% and that I can put a really good defence of my title."
The Welshman pulled out of a recent Diamond League meeting in Monaco as well as the Anniversary Games in London. because of the injury.
It was the latest setback for Greene, who has endured a mixed season.
In June a virus hindered his preparations for the European Team Championships in which he finished second in the 400m hurdles.
But Bath-based Greene ran a season's best of 48.66 seconds to win at the British Championships in Birmingham, his first victory of 2013.
Greene, who won in Daegu two years ago, is confident a carefully managed training regime will allow him to defend his title in Moscow.
"I've obviously had a rough few weeks with not being able to run in Monaco and London," Greene said.
"I wasn't physically capable of competing. It hasn't been easy but I seem to be over the worst. These things happen in athletics.
"I've certainly trained really well throughout the year and I just feel as though I haven't quite run as fast as perhaps I could have and should have in my last couple of races.
"I know I was in good shape before I had any problems so I'll take positives from that. Hopefully I'll be fully over the problem by next week.
"It's been a slow process these last few weeks where we had to take things literally day to day. We don't want to jeopardise my chances of competing in Moscow.
"We'll be pushing as much as we can but not looking to do too much too soon and that I'm OK on that start line.
"I certainly felt I was in really good shape at the trials and I think if I was in a stronger race against the top guys in the world I would have ran a lot faster.
"I take a lot of positives from that and the fact I've accomplished so much training when I have fit.
"I hope that I won't have lost too much in the last few weeks but I guess the acid test is when I get to the championships.
"But I think my event is very wide open and no-one seems to be dominating. Certainly the times people are running aren't out of my reach."