Jamie Donaldson confident ahead of Irish Open defence
Last updated on .From the section Wales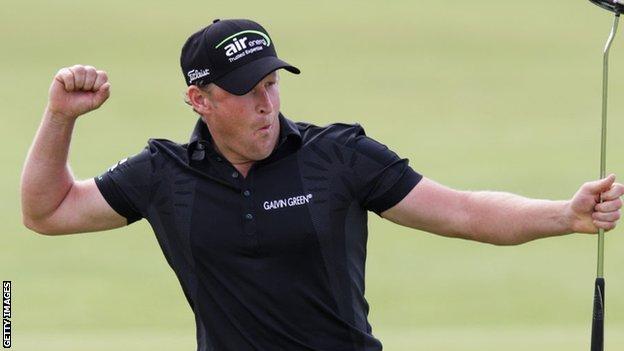 Defending champion Jamie Donaldson says he's in good form going into his defence of the Irish Open at Carton House on Thursday.
He added a second Tour crown when he triumphed in Abu Dhabi in January, and is in confident mood.
"I'm looking forward to this week and the form is pretty good," he said.
The Welshman, 37, believes winning that first title changed his attitude to the game, and made him a much better player than the last time the Irish Open was held at the County Kildare course in 2006.
On that occasion he missed the cut after rounds of 79 and 75, but believes the course is more forgiving this year.
"My record hasn't been great here, but this is a very good golf course plus the weather looks pretty good this week," said Donaldson.
"The rough's not as thick as last time I came here, so it favours my iron game more than it did last time.
"I'm a much more rounded golfer than I was then.
"I think last time I came here I wasn't playing great. But this time around things are very different, I'm a different golfer, a different guy I suppose."
The biggest difference, according to Donaldson, is that he is now a two-times winner on the European Tour which gives him a confidence previously lacking in his game.
"I've closed doors that were waiting to be shut I suppose," he added.
"I'd played well up to the win in Ireland this time last year, but I hadn't won up until that time and then two [wins] come in eight months.
"It was a matter of time before they came I always felt, but they took a lot longer than I would have liked.
"It's funny, in the time I've won these two events I've not been as consistent as I was before then.
"[But] When I have played well I've capitalised on doing it, which is what it's all about.
"Winning opens doors that finishing second, third, fourth doesn't."
Before winning at Royal Portrush last year, Donaldson had never won a European Tour event in 12 years as a professional, but had finished in the top 10 on 32 occasions.
He is one of five Welshman in the field for the tournament which tees-off on Thursday morning.
Another previous winner, Stephen Dodd, returns to the course where he took the crown in 2005.
The other Welsh competitors are Rhys Davies, Philip Price and the amateur Rhys Pugh.