Brett Morse wants to erase discus London 2012 disappointment
Last updated on .From the section Wales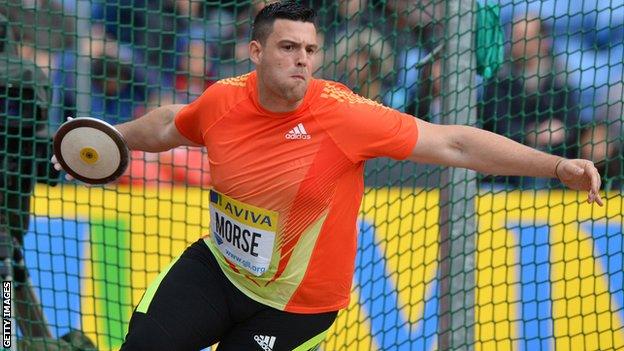 Discus thrower Brett Morse says his disappointment at London 2012 is a huge motivator for the new athletics season.
He was knocked out in the qualifying rounds and only managed one legal throw at the Olympics,
Morse, 24, became the first Welshman to win a discus title and has already achieved the qualifying standard for the 2014 Commonwealth Games in Glasgow with a throw of 64.97 metres.
"I was hugely disappointed with it [the Olympics]," said Morse.
"Since I started doing athletics I knew about the Olympics in London and it was my sole aim to get there and do well.
"Then I got here and was out of shape, and had a pectoral and abductor injury and it was disappointing.
"I didn't perform to what I can and that has driven me massively this year and to Glasgow. I want to make up for the disappointment of last year."
Morse achieved the Commonwealth Games qualifying standard with his throw of 64.97m at the British Athletics League Premier Division match in Lee Valley, London, in May.
His throw beat the Welsh Athletics' A standard of 60m for Glasgow 2014 and put him top of the British and European rankings in 2013 and sixth in the world. Morse is expected to compete at the Welsh Athletics International at the Cardiff International Sports Stadium on 31 July.
While Morse failed to perform to his own satisfaction at London 2012, he did gain notoriety when he accused Belarusian women's shot put gold medallist Nadzeya Ostapchuk on Twitter of doping.
Morse later apologised for his remarks and tweeted: "It was very stupid and immature on my part... being an Olympian means a lot to me and I should know a lot better than to make accusations and stupid remarks about a fellow athlete. So once again sorry."
Cardiff-born Morse has moved back to Wales after being based in Sweden before London 2012 and has set his sights on fulfilling his potential in his chosen field event.
"I have decided to base myself in Cardiff again and it has gone well so far," said Morse.
"I have the European Team Championships, the Anniversary Games at the Olympic stadium and I want to make up for my disappointment there last year, and then it's Commonwealth Games in Glasgow and the European championships next year."