Netball: Wales beat Scotland 56-43 to win Europe Open gold
Last updated on .From the section Wales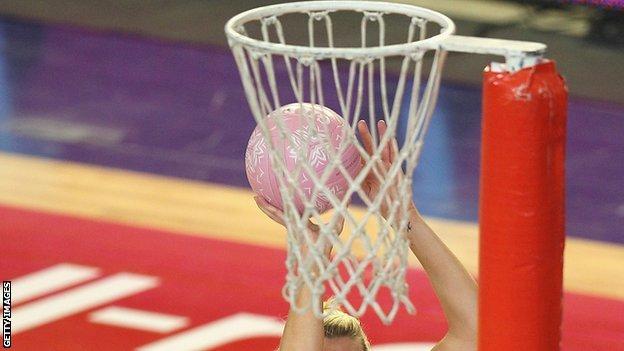 Wales beat Scotland 56-43 to win the Europe Netball Open championship in Aberdeen, having already seen off Northern Ireland and England.
Coach Melissa Hyndman's side beat England, made up of Under-21 players, 37-33 in their opening game on Friday.
A 48-39 win over Northern Ireland followed on Saturday.
And on Sunday Wales led after each quarter (15-10, 28-20, 38-32 & 56-43) to remain unbeaten in the tournament as they won gold.
The tournament win secures Wales' spot at the 2014 Commonwealth Games in Glasgow.
Wales trailed 12-8 after the first quarter against Northern Ireland and 20-18 at the end of the second.
But they took the lead as the game wore on before ending with a 48-39 win.
Against England the Welsh women trailed by a goal going in to the last quarter, but their greater experience told as they pulled out a four-goal lead at the end.
Scotand v Wales Quarter scores:
Q1: Wales 15-10 Scotland
Q2: Wales 28-20 Scotland
Q3: Wales 38-32 Scotland
Q4: Wales 56-43 Scotland
Wales v Northern Ireland Quarter scores:
Q1: Wales 8-12 Northern Ireland
Q2: Wales 18-20 Northern Ireland
Q3: Wales 31-30 Northern Ireland
Q4: Wales 48-39 Northern Ireland
Wales v England Quarter scores:
Q1: Wales 9-10 England
Q2: Wales 21-18 England
Q3: Wales 27-28 England
Q4: Wales 37-33 England