Nicole Cooke one of cycling's best of all time, says Shane Sutton
Last updated on .From the section Wales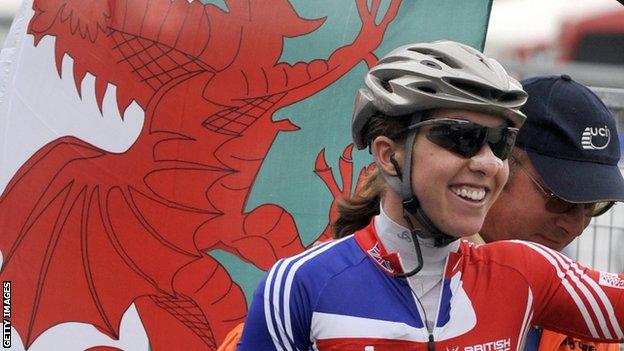 Nicole Cooke will be remembered as one of the three greatest women road cyclists of all time, according to British Cycling coach Shane Sutton.
"Alongside [Marianne] Vos now and [Jeannie] Longo, Nicole's the greatest women's road cyclist of all time," Sutton told BBC Wales Sport.
"Nicole's right up there with the best of the best."
Sutton, a Commonwealth Games gold medallist for Australia in 1978, worked closely with Cooke when he was Wales national cycling coach.
He believes she helped inspire the current crop of British women's cyclists, such as double Olympic champion Laura Trott.
The Vale of Glamorgan rider won the British road race title for 10 consecutive seasons between 1999 and 2009.
After winning Commonwealth Games gold in Manchester in 2002, Cooke had her greatest year in 2008 when she took gold at the Beijing Olympics and World Championship.
But it was Cooke's success at the 2001 World Junior Championships that helped put British women's cycling on the map, according to Sutton.
"When you look back, when she won two junior world titles in Lisbon she started a pathway there in terms of success for women athletes," he said.
"All of a sudden we [British cycling] were starting getting noticed on the female front. That was the pathway for others to follow.
"I think the sport of female cycling owes her a debt, there's no two ways about that.
"You've got to remember that at the height of her reign it was all Nicole Cooke, winning the Olympics, winning world titles, winning Giro d'Italia and endless other races."
He added: "There's a massive amount of young talent that's come through thanks to the work of Nicole Cooke and through the good work now of Lizzie Armitstead and the greatness of Laura Trott and the track cycling programme."
Sutton said he was not surprised by Cooke's attack on drugs cheats during her retirement statement.
He said Cooke had always been outspoken and an intelligent critic of the sport, but that her comments had often been misinterpreted.
"Looking at her comments at the press conference possibly there's probably a little hint of bitterness read into that - [people will say] well, that's Nicole - but I can see where she's coming from," he said.
"Nicole's probably never received the riches she deserves. If you put her as the number one tennis player in the world what would she have received, where would she be?
"My main thing is that we'll see someone follow in her footsteps, and we've already started to see that in the shape of Eleanor Barker. She's already emulated Nicole's time in winning the world junior title.
"You know these girls look to Nicole as an inspiration and hopefully that's the legacy that I'd like to see people look at from Nicole, not what she said in a press conference.
"I've lived in Wales a long time and I think the Welsh community should applaud Nicole for what she's achieved."