Nathan Cleverly warned he must face Krasniqi or lose his title
Last updated on .From the section Wales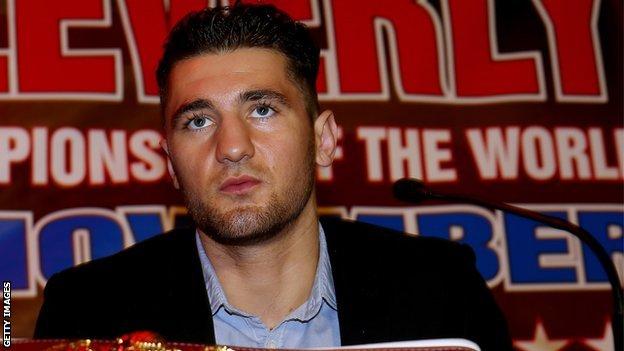 Nathan Cleverly faces being stripped of his WBO light-heavyweight world title unless he makes a mandatory defence against Robin Krasniqi.
Purse bids to stage the fight open on 19 December, with the bout expected to take place in February.
WBO president Francisco Valcarcel said in an official Tweet: "We want to make it clear that Cleverly must face Krisniqi or be stripped of the title."
Cleverly pulled out of a bout with the Serbian in April 2012 with illness.
The Welshman is trained by his father Vince, who said he had no problem with the WBO's instruction.
"If that's the way the president of the WBO says it's got to go then there's no problem whatsoever," he said.
"There's no problem fighting Krasniqi at all. We'll go over to Germany, we'll fight him anywhere.
"He's the mandatory challenger, so he must have earned his way there. It'll be a decent fight, but I really think Nathan is a level above him."
If Cleverly fights Krisniqi it would all but rule out a big-money bout with American legend Bernard Hopkins in New York in March.
Cleverly retained his title in November with an impressive eighth-round stoppage win over American Shawn Hawk in Los Angeles.
That win extended Cleverly's unbeaten record to 25 fights.
The WBO sanctioned the bout against an unranked opponent provided the Welshman makes a mandatory world title defence against the WBO's number one challenger, 25-year-old Krasniqi, within 90 days of outclassing Hawk.