London 2012: Welsh Olympians recall history made by rivals
Last updated on .From the section Wales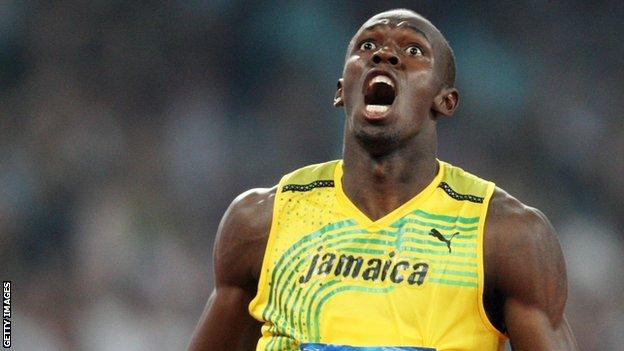 When Usain Bolt completed his sprint and world-record double at the 2008 Beijing Olympics, the world looked on in awe.
But for Welsh competitor Christian Malcolm the experience ran even deeper. His immediate reaction as the 200 metres ended was one of sheer disbelief.
Jamaican Bolt had already made himself the star of those Games with an extraordinary 100m triumph, deliberately slowing down while well ahead as he approached the line.
In the 200m, his victory was no less emphatic and it left Malcolm to experience a moment of true sporting history.
Malcolm told Wales at the Olympics: "I remember looking at Kim Connors, he looked at me and it was just a surreal moment because I looked at the clock and I said, '19.30? nah, the clock's wrong. That's not right, that is not right'.
"But when you see Bolt just run off to the background and you hear the crowd announcements and the crowd going crazy [you realise it's true].
"Everything seems to hit home then and you start to realise that history has been made."
And so it had, leaving Bolt as a man with a huge weight of expectation on his shoulders as the 2012 Games approach.
But Bolt is not the only great Olympian to have left a Welsh rival at the same turn pondering defeat and their less impressive part in such a memorable moment.
At Atlanta in 1996, young 400m runner Iwan Thomas found himself in the unenviable position of being among the rivals of United States of America's Michael Johnson.
That the race became the victory procession most predicted was hardly a surprise.
But for Thomas, the event will linger in the memory for the manner of Johnson's running as much as his achievement.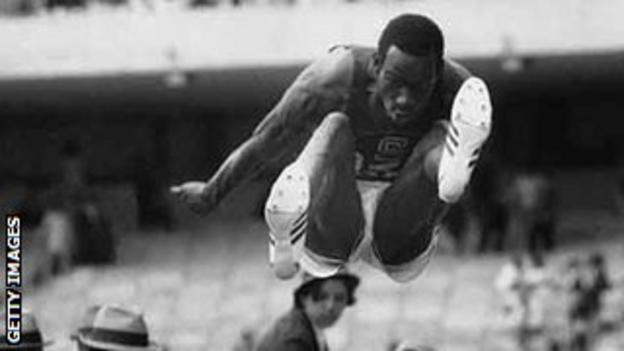 "I went around the top bend and I was near to him and I remember thinking: 'Yeah, his running style is weird, but God, don't he look good?'
"And before I knew it he'd gone and by watching him I'd not concentrated and I think I came seventh in that race because I was watching Michael Johnson, thinking 'you're amazing'."
Even further back, at the 1968 Mexico Games, defending long-jump champion Lynn Davies was so affected by the brilliance of another that his interest in the competition waned.
Davies became the first - and as yet only - Welshman to win a track and field gold when he triumphed at the 1964 Tokyo Games.
But American Bob Beamon's first effort of 8.9m was more than half a metre better than the previous world record and left his rivals stunned.
At the time, Davies admitted: "As far as I was concerned I lost interest in the competition [finishing ninth]. If I can't win, I'm not interested.
"It may be a selfish attitude, but if I'm not in there with a chance of winning, silver and bronze doesn't mean anything after that."