London 2012: Dave Haller criticises David Davies' old coach
Last updated on .From the section Wales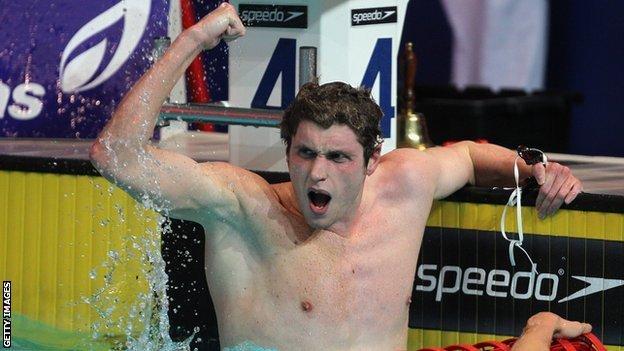 David Davies' coach Dave Haller has accused British Swimming of "over-training" the double Olympic medallist and hampering his London 2012 hopes.
The 27-year-old left Haller's Cardiff stable in 2007 to work with senior Team GB coach Kevin Renshaw at British Swimming's Loughborough base.
Davies returned to Cardiff in 2010 and Haller claimed: "It didn't work out and he got totally over-trained."
British Swimming has said it will not comment on Haller's criticisms.
Barry swimmer Davies emerged on the international stage when he broke the British record by swimming the then fourth fastest 1500m freestyle time in history in winning Olympic bronze at the 2004 Games in Athens.
Davies won World Championship 1500m bronze in 2005 and struck Commonwealth gold in 2006, where he also secured bronze in the 400m.
He won bronze at the 2007 World Championships before deciding to leave Haller's renowned south Wales training base for British Swimming's headquarters, joining Olympic champion Rebecca Adlington and bronze medallist Joanne Jackson.
Davies started to compete in the 10k open water swimming marathon, a newly-recognised Olympic event, and won silver at the 2008 Beijing Olympics after finishing sixth in the 1500m final.
He lowered his 200m and 400m personal bests but decided to return to Haller's Cardiff base after two years away, stating that he needed to "make a change".
Haller, who has coached swimmers to every Olympic Games since 1968, then because of fatigue.
Reflecting on the period, Haller now says: "Unfortunately David thought he liked to try something different so he moved to Loughborough.
"I wasn't happy about it because he just come third in the world and I couldn't understand why he wanted to move.
"But it didn't work out and he got totally over-trained. His body is now very fragile, the muscles were torn down badly - too much hard work and not enough recovery.
"The body shut itself down basically, the muscle fibres were weakened and when he is under severe pressure they tend to relapse. They are not as strong as they were.
"He did far too much work in the gym, far too much hard training and not enough endurance work, which is what he should be doing."
Asked if Davies had been let down by the system, Haller replied: "I think so. I think he should have been monitored a lot more in Loughborough, which is a national centre.
"I've known the lad since he was nine, I know all of his ins and outs and I know what makes him tick.
"The coach was doing his best up there, but he was trying too hard."
Davies' old training partner Daniel Fogg, who is still trained at Loughborough by Renshaw, at London 2012.
But the Welsh swimmer did qualify for his third Olympics in the pool as he
Davies admitted: "I have no regrets because if I didn't do it I'd never know.
"I tried some different things, it was successful 50 percent of the time but in the latter half of it didn't go to plan.
"I wouldn't like to criticise anyone, it was harder for Dave to see it happening because he wasn't hands on.
"My body has definitely suffered but nobodyever held a gun to my head and told me to do it, it was my decision to try it and I was guided maybe down the wrong path and maybe it didn't work and it did take a lot out of me.
"But it is done now. I'm going to my third Olympics, probably not in as good as shape I was in the previous two, but I still want to enjoy it and see what I can do."