London 2012: How swimmer Irene Steer won Wales' first female Olympic gold
Last updated on .From the section Wales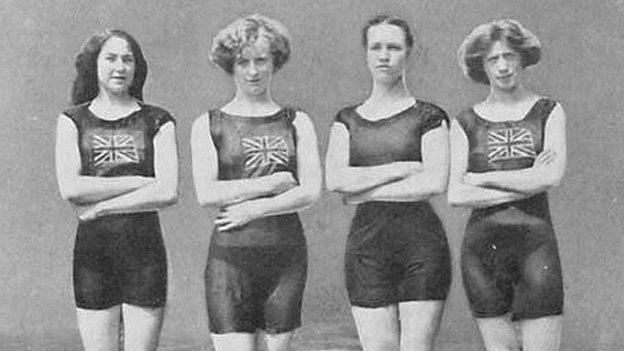 In 1912 Irene Steer became the first Welsh woman to win an Olympic gold medal.
It took almost another century for that tally to double, when Nicole Cooke topped the podium at the 2008 Beijing Games in the women's cycling road race.
Steer was a sporting pioneer just by competing at the Olympics, as women had only been allowed to compete from the 1900 Games in Paris, while swimming made its debut as a female sport 12 years later.
The timing for Steer was almost perfect, as she was just reaching the peak of her powers when those 1912 Stockholm Games came around.
As part of a British 4x100 metre quartet that included Belle Moore, Jennie Fletcher and Annie Speirs, Cardiff-born Steer claimed gold in the new women's event.
"We were crowned with laurel wreaths and they played the national anthem, they hoisted the Union Jack and we winners had to just parade all around the pool, which was rather embarrassing!" Steer said in a interview in 1976, aged 86, shortly before her death the following year.
Part of that embarrassment was surely down to the silk costumes the female swimmers wore, which became so transparent when wet it was deemed necessary to assign them a chaperone, a stern matron named Madame Jarvis.
The relay gold helped soothe the pain Steer had suffered earlier in the individual 100m freestyle - the only other women's swimming event - where she had been disqualified in the semi-finals.
Swimming at the 1912 Games was held in an open air pool without lanes and Steer collided with one of her German rivals during a turn.
Steer won the heat but following a protest from the German team she was barred from the final.
It was another blow to British medal hopes as former world record holder Daisy Curwen, who had cruised through her heat, was taken ill with appendicitis before the final.
A century later, Georgia Davies, who competes in the 100m backstroke for Britain, is one of the Welsh women who is a beneficiary of Steer's legacy.
The Swansea swimmer aims to add to Wales' collection of Olympic swimming medals at London 2012 and has sympathy for the misfortune that struck Steer.
"I've swum in a warm-down pool without lanes and zig-zagged all over the place!" Davies told the BBC Wales Sport series Wales at the Olympics.
"Sometimes you can look at the roof and get your bearings, but it would be really difficult."
Davies is also grateful for the efforts of the women who forced their way to equality in both sport and society.
If it was ground-breaking for women to be allowed to compete in the same sports as men, it must be remembered that those athletes lived at a time where it was not until 1918 that women were given the vote in Britain.
Even then there was an initial age requirement of 30 that was only lowered to 21 a decade later.
"I've been doing sport all my life and I can't imagine living in a time where I wasn't allowed to compete and then watching men compete, I would just find it so unfair," Davies added.
"Definitely all the fighting that the women did back then paid off and I'm just glad that I can be taking part now.
"I definitely wouldn't have been able to sit back and suffer in silence."
Steer, born and raised in Cardiff, was a keen sports fan from an early age and regularly attended Cardiff Rugby Football Club matches with her father, a draper.
Her loyalties later switched to football, becoming a life-long Cardiff City fan and Steer even married a director and chairman of the club, William Nicholson.
At a comparatively diminutive 5ft 2in, Steer did not fit the physical profile of a world-class athlete but to all who saw her swimming in Roath Park Lake, where Steer did the majority of her training, her talent was clear.
Rivals would still underestimate her, though, and at the Olympic trials she gave the doubters a shock.
"I remember when we were in Southport for the trials, we were walking along the front - a whole lot of us girls arm in arm - and I had very small feet... and they said: 'oh well, you don't expect to win anything with those feet do you?'," Steer recalled.
Steer duly staked her place for Stockholm, before claiming her place in history as Wales' first female Olympic gold medallist.