Nathan Cleverly's unification clash with Bernard Hopkins a step closer
Last updated on .From the section Wales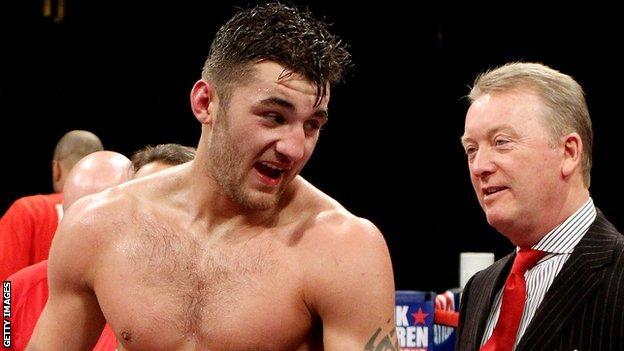 Nathan Cleverly has received a boost in his bid for a light-heavyweight unification clash with Bernard Hopkins.
For it to happen Cleverly and Hopkins have to win their fights against Robin Krasniqi and Chad Dawson on 28 April.
But Richard Schaefer of Golden Boy Promotions is confident Hopkins wants to fight Cleverly.
"I've talked to Bernard about Nathan and he said 'Look, I'm used to fighting younger guys. Just keep bringing them on'," said Schaefer.
"I went with [promoter] Frank [Warren] through some numbers. Now I'll have to go to Bernard and we'll go through some numbers.
"If the numbers which Frank has outlined to me hold true, I think there's a good chance the fight could take place in the UK, absolutely,"
"We don't want to jinx anything - Bernard has a very difficlut fight ahead of him against Chad Dawson who's a young, hungry fighter, so lets see what happens.
"But definitely, if everything goes well, I would very much like to make that fight."
Unbeaten WBO champion Cleverly will first defend his title for a fourth time against Krasniqi at the Royal Albert Hall on 28 April.
The London show is on the same night as American legend Hopkins's WBC world light-heavyweight title rematch with Dawson in Atlantic City.
Warren wants the two winners, who he hopes will be Cleverly and Hopkins, to meet in the summer in Wales - possibly at the Millennium Stadium.
Warren insists 25-year-old Cleverly's career would not be derailed should he suffer his first professional defeat against wily 47-year-old Hopkins.
"It would be a tough fight but even if he got beat, so what?" said Warren in March.
"He is young enough to come again. Even if you lose a fight it is how you lose a fight - and I just feel for Nathan it would be a great fight for him to take.
"I think styles make fights and I think if the opportunity comes for Nathan Cleverly to fight Bernard Hopkins, it is a fight he should take.
"It will be a tough, tough fight for him but I think his youth and his speed is the key to winning the fight.
"I think we can make the fight. I've been talking to Richard Schaefer of Golden Boy and it was him who suggested the fight to me.
"Hopkins will get a big pay day and where is he going to fight where they are to draw 40,000 to 50,000 people? There isn't anywhere in America where that is going to happen.
"So the money is there to be made. I know HBO [American TV channel] will be very interested in the fight and Box Nation [British TV channel] will be prepared to step up to the plate as well to ensure Nathan got his opportunity to unify the titles."
The World Boxing Organisation cleared Cleverly to fight Kosovan Krasniqi as long as his next defence was against mandatory challenger Dmitry Sukhotsky within 120 days.
But the Welshman admits his "preference" would be to unify his belt against IBF champion Tavoris Cloud, WBA title-holder Beibut Shumenov or WBC champion Hopkins.
Cleverly was only 18 months old when Hopkins made his professional fight debut in October 1988 but he wants to fight the "master."
"I feel I'm ready for those guys," said Cleverly. "Hopkins would be the bigger draw, he has the name, status and is still a class operator.
"He will probably demand a lot of money to tempt them to Wales.
"But if that's what is needed to bring him over, then we'll sure do that and get the fight on."