BBC Cymru Wales' Sports Personality of the Year Unsung Hero 2011
Last updated on .From the section Wales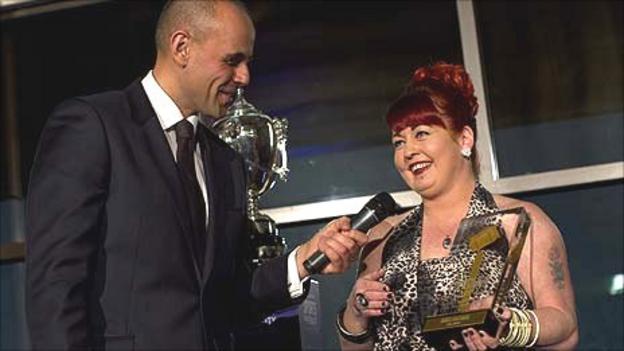 Note: Entries closed at midnight on Sunday, 30 October 2011.
As part of BBC Sports Personality of the Year, BBC Cymru Wales is once again looking for some very special people working in sport. It's our 2011 BBC Sports Unsung Hero awards.
Do you know someone who helps others take part in sport within your community?
Someone who goes that extra mile to make a difference to sport?
If so, why not nominate them for a BBC's Sports Unsung Hero award in Wales?
The awards have run annually since 2003. They recognise special people who dedicate their lives to promoting sport in their community, taking no reward from it other than the pleasure of helping others to participate and enjoy their sport.
The Wales Unsung Hero winner will be chosen by an expert panel and announced in early December. He or she will then compete against the winners from all 12 BBC English Regions plus Scotland and Northern Ireland for the overall winner, to be announced at the BBC Sports Personality of the Year event in Salford on Thursday, 22 December live on BBC One.
World medal-winning athlete Christian Malcolm has launched the 2011 award in Wales.
Lisa Jones, Junior football coach from Penydarren Boys & Girls Football Club in Merthyr, won the Wales award in 2010.
She has been coaching for eight years and coaches three teams in her spare time, working with over 100 children a week. "A true inspiration to all who know her, children love her, she never puts herself first and is always thinking of others," said her nominee for the award.
Geoff Williams, BBC Wales Head of Sport says: "Unsung Hero is one of the key awards in the sporting year in Wales, and it is always a privilege to shine the spotlight on people who work so hard, often for decades, on behalf of others. This is a chance for their valiant and valuable efforts to be recognised."
What are we looking for?
We want to know about someone who, on a voluntary basis, makes a real difference to sport within their area. They'll give their time and talents to enable others to participate in sport. This may be in helping an individual, team or teams, or perhaps be the driving force behind a sports club. This sport can be at any level. However they must be someone who gains no financial reward for their time, and must be 16 year of age or over.
How are the awards run?
Following nominations from members of the public using the enclosed nomination form, judging panels decide each of the 15 winners. In each case they made up of leading figures from the sporting world, a former winner of the Sports Unsung Hero award and representatives from BBC's sport staff and BBC staff locally.
All 15 regional BBC winners are then invited to this year's BBC Sports Personality of the Year show where an overall winner will be announced.
In the nine years of the awards, many inspiring figures have won a Sports Unsung Hero Award. Recent Wales winners have included:
2007 - Andrew Grey. Founded Milford Haven Gymnastics Club 27 years ago, and also involved with the Pembrokeshire Under-11 rugby team.
2008 - Cliff Williams. Helps run two senior men's teams, a women's side, as well as supervising more than a 100 mini and junior players at Pontyclun RFC.
2009 - Arthur Jones. Secretary of Carmarthenshire junior, senior and mini football leagues and has been involved in football in Carmarthenshire as a player, manager and club secretary for almost 60 years.
Entries closed at midnight on Sunday, 30 October 2011.