London prepares for Olympic beach volleyball
By Nick Hope
BBC Olympic sports reporter
Last updated on .From the section Volleyball
Beach volleyball is officially welcomed to its 2012 Olympic home in Horse Guards Parade on Tuesday as part of the London Prepares Series.
Sell-out crowds of 1,500 people are expected for each of the 54 matches over six days of competition.
The event acts as a dress-rehearsal for next year's Olympics - when around 15,000 spectators will attend daily.
Twenty-four teams will compete on the temporary courts which have been created with 2,274 tonnes of sand from a quarry in Godstone, Surrey.
Current world number one pairing Jennifer Kessy and April Ross of the United States will be the headline act on Tuesday, but Beijing bronze medallists Chen Xue and Xi Zhang of China are also competing.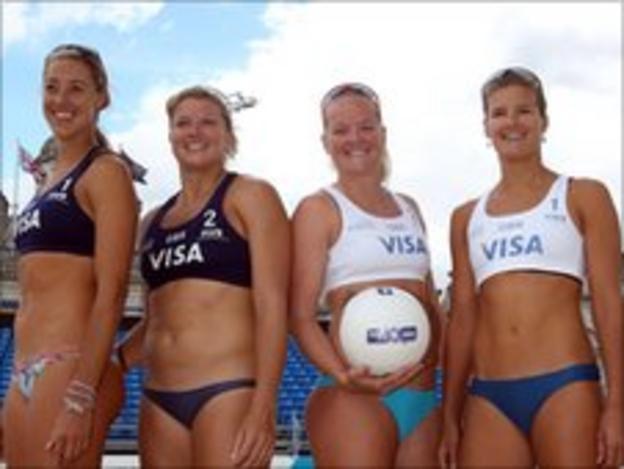 Zara Dampney and Shauna Mullin, as well as Lucy Boulton and Denise Johns, are Great Britain's pairings at Horse Guards Parade.
Although volleyball is a low-profile sport in this country, the British girls are keen to demonstrate the progress they are making ahead of the London Olympics.
"Countries like America and China have a great history in the sport and good development programmes, so to compete against that can be quite tough," said Dampney.
Her partner Mullin added: "We've gained a lot of experience in recent years out on the World Tour and are currently ranked in the top 25 [40 places higher than two years ago], which shows our progression."
As hosts of the 2012 Olympics, Great Britain are guaranteed a place for one male and one female beach volleyball team.
A second could potentially be attained through the world rankings when the Olympic qualifying campaign ends in June next year, however realistically the two teams know just one of them are likely to make it to London.
"The venue is absolutely unbelievable and this stadium only holds 1,500 people so to think what it's going to be like with 15,000 is going to be amazing," added Dampney.
"It's exciting to see what it's like and makes us just want to be here next year that much more."
Horse Guards Parade is seen as one of the showcase 2012 venues, bringing together some of London's most famous landmarks with one of the most highly anticipated sports of the Olympics.
The London Prepares Series event, 9-14 August, will allow the London 2012 Organising Committee (LOCOG) to test key aspects of its operations in preparation for next year's Games.
This includes testing the field of play, timing, scoring technology, venue installation and effectiveness of the workforce.
Despite the rioting which spread across London for a third night, Locog insisted that it was "business as usual" for them this morning and that there were no plans to postpone the start of the test event.
In 2012, a total of 96 athletes will be competing in the men's and women's volleyball events.
The competition will consist of 24 teams, divided into six pools of four teams.