Alistair Brownlee disqualified in Australia as Mario Mola wins triathlon title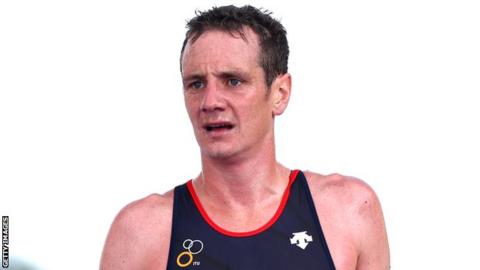 Great Britain's Alistair Brownlee was disqualified from the Grand Final of the World Triathlon Series as Mario Mola won a third world title in a row.
Brownlee, 30, was initially given a 15-second penalty in Australia for failing to go round a buoy in the swimming.
This was then upgraded to a disqualification and, although he continued to compete, he did not appeal against the decision post-race.
Spain's Mola finished second behind France's Vincent Luis to win the title.
'Roughest swim I've ever done'
Brownlee and brother Jonny were not in contention for the world title going into the final race of the year.
Jonny ended it in eighth as the highest-finishing Briton, while compatriot Thomas Bishop finished 22nd.
"I'm really disappointed," said Alistair. "I thought I had a decent race in me.
"It's my first ever DQ in any sporting event. I was on the wrong side of the buoy and I've seen it on video.
"I was disorientated after being hit and held under the water in the roughest swim I've ever done."
Mola claimed victories in four of the season's eight races on his way to the title.
"It's been a great season. I'm very happy with how things went," said Mola, 28.
"I could never imagine having three titles. It is incredible."
On Saturday, Britain's Vicky Holland became women's world champion by finishing second in the Grand Final.
Final points standings
| Athlete | Country | Points |
| --- | --- | --- |
| 1. Mario Mola | Spain | 6081 |
| 2. Vincent Luis | France | 5060 |
| 3. Jacob Birtwhistle | Australia | 4884 |
| 4. Richard Murray | South Africa | 4792 |
| 5. Kristian Blummenfelt | Norway | 3936 |
| 6. Fernando Alarza | Spain | 3520 |
| 7. Henri Schoeman | South Africa | 3438 |
| 8. Pierre Le Corre | France | 3215 |
| 9. Tyler Mislawchuk | Canada | 3194 |
| 10. Marten Van Riel | Belgium | 2960 |