Helen Jenkins: Double world champion aims for racing return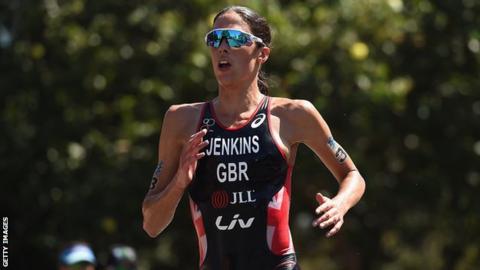 Double world triathlon champion Helen Jenkins hopes to return to competition after having back surgery and giving birth to her daughter.
Jenkins gave birth to Mali in August 2017 before undergoing back surgery at the beginning of 2018.
"I would love to get back to racing but also knew before the operation I needed it to have a good quality of life with my daughter," said Jenkins.
"I was struggling to pick her up and now I can do it no problem."
Jenkins won the 2008 and 2011 world titles and has competed in three Olympics with a best finish of fifth place at London 2012.
The 34-year-old admits she needed surgery to enhance her quality of life as well as thinking of competing again on the world stage.
"It was a pretty serious surgery and when I had it they said there was no definite chance I could come back," said Jenkins.
"Generally day to day, my back is so much better but getting back into training is hard.
"I am working hard and hope to get back racing next year but just have to focus on being healthy at the moment.
"Having a daughter gives me a different view on life and has kept me busy when I have had time off.
"The operation was not just about racing, it was about being happy.
"I have to take a broad view and look at my life over the next 20 years and how that is going to pan out.
"It is not just about getting back to racing quickly."
In Jenkins' absence, British women have flourished with Vicky Holland targeting the world title on Saturday when she lines up in the Gold Coast for the Grand Final of the ITU World Series.
Series leader Katie Zaferes of the United States is only 34 points ahead of Holland, while fellow Britons Georgia Taylor-Brown and Jess Learmonth are third and fourth in the overall standings and could mathematically win the overall title.
In contrast, Jenkins' compatriot and fellow former world champion Non Stanford has struggled this year through illness and injury but will line up on the Gold Coast.
"The Grand Final is so competitive this year and we have so many strong British women racing," said Jenkins.
"Unfortunately Non has not had the best year," said Jenkins.
"She started so well but has been so unlucky with illness and her asthma has been playing up.
"It is important she just goes into this race with no pressure or expectations.
"If Non is fit and healthy on the start line, she definitely has a chance."