World Triathlon Series 2018: Lauren Steadman eyes 2020 gold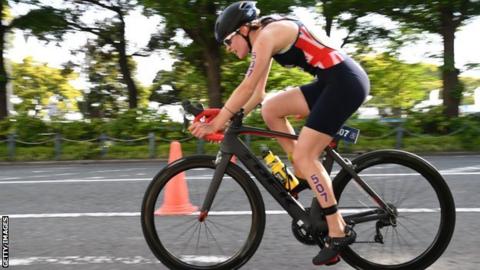 2018 World Triathlon Series on the BBC
Live: Watch on BBC Red Button, iPlayer, Connected TVs, online & BBC Sport app
Highlights: Watch on BBC Two and catch up on BBC iPlayer
Sign up to My Sport to follow triathlon news on the BBC app
Lauren Steadman says she is closing in on Paralympic gold regardless of whether she clinches a maiden world title in Gold Coast on Saturday.
The 25-year-old Briton - also known as a Strictly Come Dancing contestant - was second behind United States' Grace Norman at Rio 2016.
"Hopefully this race will finish the season how I want it," she said.
"But at the same time my end goal is Tokyo and this is a stepping stone towards it."
Steadman beat Norman in Yokohama in May and has also secured victories in the ITU events at Eton Dorney and Iseo-Franciacorta and in July's European Championships.
She added: "I feel that I have been progressing in the right direction to get the gold in Tokyo. With two more years of hard work, dedication and focus, I think I can bring it home."
Tokyo would be Steadman's fourth Paralympics, but only her second as triathlete after competing as a swimmer at Beijing 2008 and London 2012.
While her swimming past has given her a solid basis for her triathlon career, it has also left her with a mental obstacle to overcome.
"I think everyone knows I have a big fear for open water." she added.
"Coming from swimming you have the black line on the pool floor, your coach there. You go up and down, up and down and know you are safe. In open water you don't know what is around you or the currents.
"Here in the Gold Coast all I can think is that I am going to be eaten by a great white shark, even though I have been told that there aren't any round here. It is still a fear."
Steadman is also appearing on this year's series of BBC One programme Strictly Coming Dancing where she thinks her memory might be her weakness.
"I am most worried about forgetting my routine," she said.
"My partner AJ is absolutely amazing and we will work tirelessly, just like I do with triathlon.
"However many hours there are in the day we will be practising. I am just nervous about dong the spin the wrong way or something. It is more memory than anything."
Holland in duel for title
Vicky Holland, a bronze medallist at Rio 2016, is set to contest the women's title with American Katie Zaferes.
The pair are well clear of British pair Georgia Taylor-Brown and Jessica Learmonth who are third and fourth in the season's standings.
Holland has victories in Leeds, Edmonton and Montreal from the world series' previous eight rounds this season and is keen to make the most of her run of form.
"I finished fourth here on the Gold Coast in the under-23 race in 2009 and now, here I am, 10 years later with my first ever opportunity to challenge for the senior world title," she said.
"It's a real privilege to be in this position, and I hope I can make the most of it on Saturday."
Alistair and Jonathan Brownlee are both out of contention for the overall title.
Alistair is concentrating on longer-distance events and won silver in the 70.3 Ironman World Championships earlier in September, while Jonathan has been hampered by a crash in Abu Dhabi, illness in Leeds and a lack of his best form.
Britain's Dave Ellis defends his title in the visually impaired event along with new guide, Mark Buckingham, an elite medal winner in his own right.
Paralympic champion Andy Lewis is also hoping to retain his title after victory in Rotterdam 12 months ago.
Grand Final schedule
All times are BST. Schedules and coverage times are subject to late changes.
Saturday, 15 September
05:50-08:45, Women's Grand Final, BBC Red Button (race starts 06:06)
14:45-16:15, Women's Grand Final highlights, BBC One
Sunday, 16 September
05:50-08:45, Men's Grand Final, BBC Red Button (race starts 06:06)
14:00-15:30, Men's Grand Final highlights, BBC Two
Results and standings