Triathlon: Joe Skipper hopes for change of luck at European Long Distance event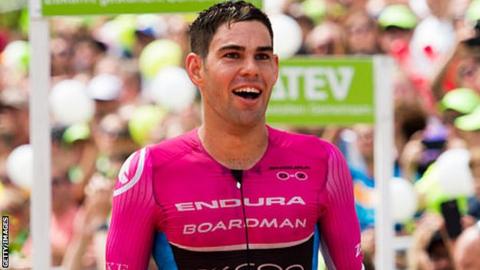 Norfolk's Joe Skipper is looking to put a series of misfortunes behind him at this weekend's European Long Distance Triathlon Championships near Amsterdam.
The 29-year-old won a bronze medal at the World Championships in 2015.
But this year, a puncture ended his chances of victory in an event in Texas and he has also had health problems.
"On Saturday I'm looking to get a good result under my belt and try to salvage something from the season," Skipper told BBC Radio Norfolk.
Long distance triathlons involve a 2.4 mile swim, a 112-mile cycle ride and a marathon to finish.
"In April I was racing in Texas and it was going really well, I'd got myself into third place before half-way in the bike which, for me, was quite good going because it normally takes me quite a while to get to the leaders after the swim, but unfortunately I punctured after 100 kms, so it was a DNF (did not finish) unfortunately," said Skipper.
"I was in tears at the side of the road because I thought I was going to win it. I'd been second there before. It's a huge race, the North American Championships. It was absolutely gutting.
"After that I had a couple of other races, one of them I got a chest infection before and another I came down with another illness, so two other races this year have been derailed."
Skipper set a new British record of 7 hrs 56 mins 23 secs in Germany last year, only for Tim Don to better it by 16 mins in Brazil in May.
And the record is not on Skipper's mind in the Netherlands.
"The course here is flat and fast. If the weather is good, it will be a very quick time. It will be quicker than the time I did in Roth last year to break the British record, but I don't think it's a course where you can beat Tim Don's time."
If all goes well, Skipper is planning another crack at the World Championships in Hawaii in 2018.
"I'm getting better all the time. It's a shame I'm not there this year because last weekend I did some good sessions and hit some really good numbers," he added.
"If I was there this year I could do a cracking result but next year I'm 100% going. I've learned a lot the previous two years I've been there and I want to come away with a decent result."